News
2022 Wilder Symposium recap - "'I had no choice' but to help them"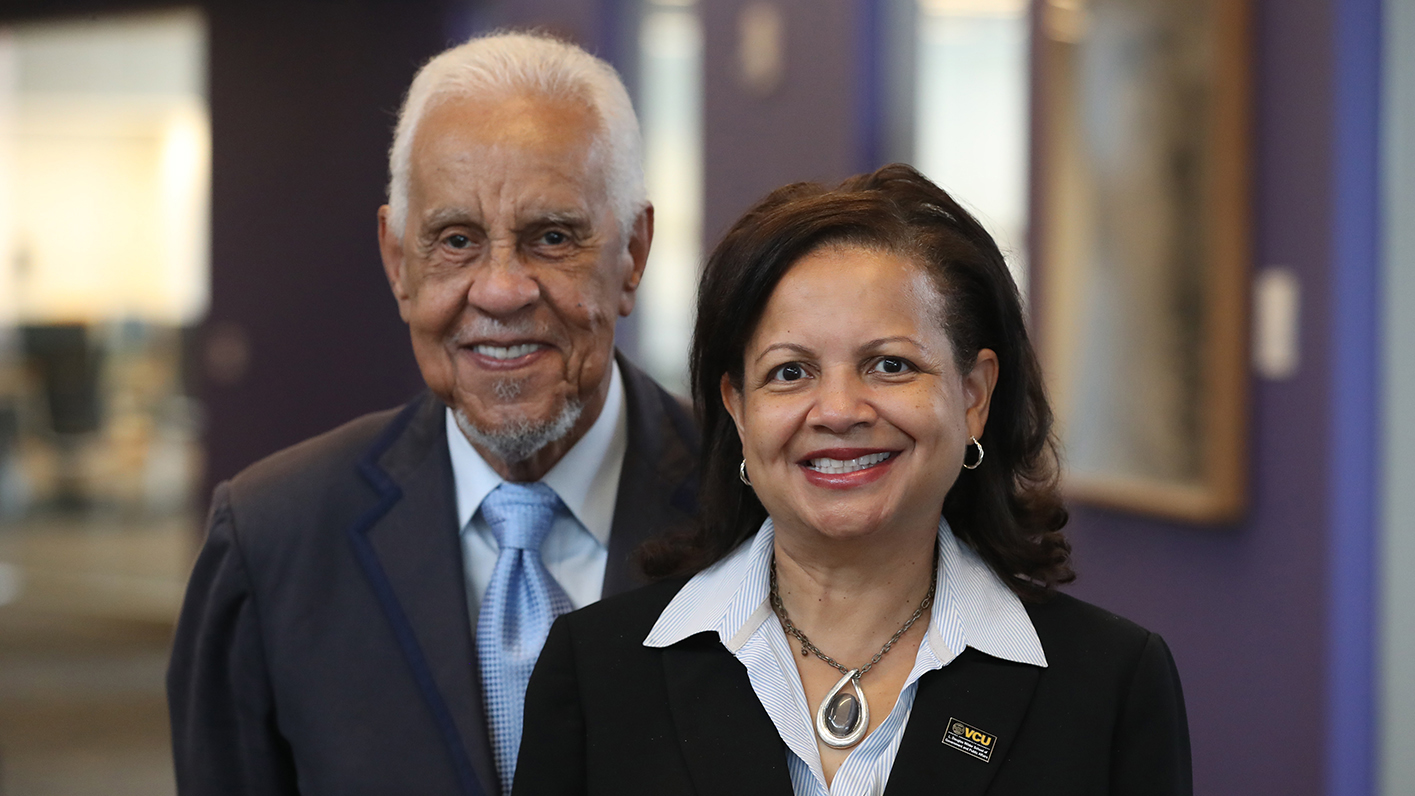 by Mary Kate Brogan
L. Douglas Wilder spoke about his work as an attorney representing the family of Bruce Tucker, whose heart was transplanted without his or his family's knowledge or consent at the Medical College of Virginia in 1968.
When Richmond attorney L. Douglas Wilder first got the call from William Tucker with details of the case of William's brother, Bruce Tucker, he reacted in disbelief. The funeral director, William Tucker told Wilder, said that his brother was missing a heart.
"I said, 'Listen, man, I do not have time to fool around,'" Wilder told an audience at the VCU Singleton Center for the Performing Arts. "He said, 'I don't know what happened, but when we got the body here for the funeral, there was no heart at all.'
"Bruce Tucker was among those whom I've always tried to be connected with as our lives are inadvertently connected. When his brother William contacted me, my only thought was that I had no choice but to adhere to my inner callings, framed by the rich partiality of parental guidance and upbringing and the commitment to the uplift of those less fortunate."
At Monday's 2022 Wilder Symposium, "Racism, Health, and Accountability," the keynote speaker Wilder, who served as the first elected African American governor in the United States and the 66th governor of Virginia, shared details from his time representing the family of Bruce Tucker.
In 1968, Tucker, a Black man, had his heart transplanted into a white businessman without his or his family's knowledge or consent at the Medical College of Virginia, now part of Virginia Commonwealth University. The VCU Board of Visitors and VCU Health System Board of Directors on Friday approved a resolution that acknowledged and apologized for the treatment of the late Bruce Tucker and those whose remains were discovered in the East Marshall Street Well.
"I never talked about it much myself because … I knew it wouldn't help Bruce Tucker. Right now, nothing has helped Bruce Tucker; right now, nothing has helped (his son) Abraham Tucker; nothing has helped a Tucker," Wilder said. "But, that still bothers me, and I think there are people who today recognize that as much as we advance society, as much as we do the kinds of things we do, unless we commit ourselves to ridding race and racism from our society, we're going to have trouble."
Wilder, a distinguished professor in the Wilder School, spoke about his life and career, as well as the case of Bruce Tucker in the context of history and ongoing issues of inequity. When asked about how individuals can improve equitable access to health care today, Wilder spoke about a VCU initiative to advance racial equity to inform public policy, governance and practice to improve conditions for marginalized voices in society.
"I think there are people who today recognize that as much as we advance society, as much as we do the kinds of things we do, unless we commit ourselves to ridding race and racism from our society, we're going to have trouble." - Gov. L. Douglas Wilder
"Demand what's right, criticize what's wrong, particularly those in the legislature, particularly those in government who are responsible for the dispensation of (funding). … There's a perfect answer to it: RISE, Research Institute for Social Equity. And for that to take place, (for us to 'rise') we need to embrace all of the things we've talked about," said Wilder, echoing his earlier comments about the importance of community involvement in decision-making at all levels. "'What are human beings doing to make our lives better?' The more we concentrate on that, the better."