News
Wilder School Virginia Capitol Semester program: Laila Barnes unlocks future career opportunities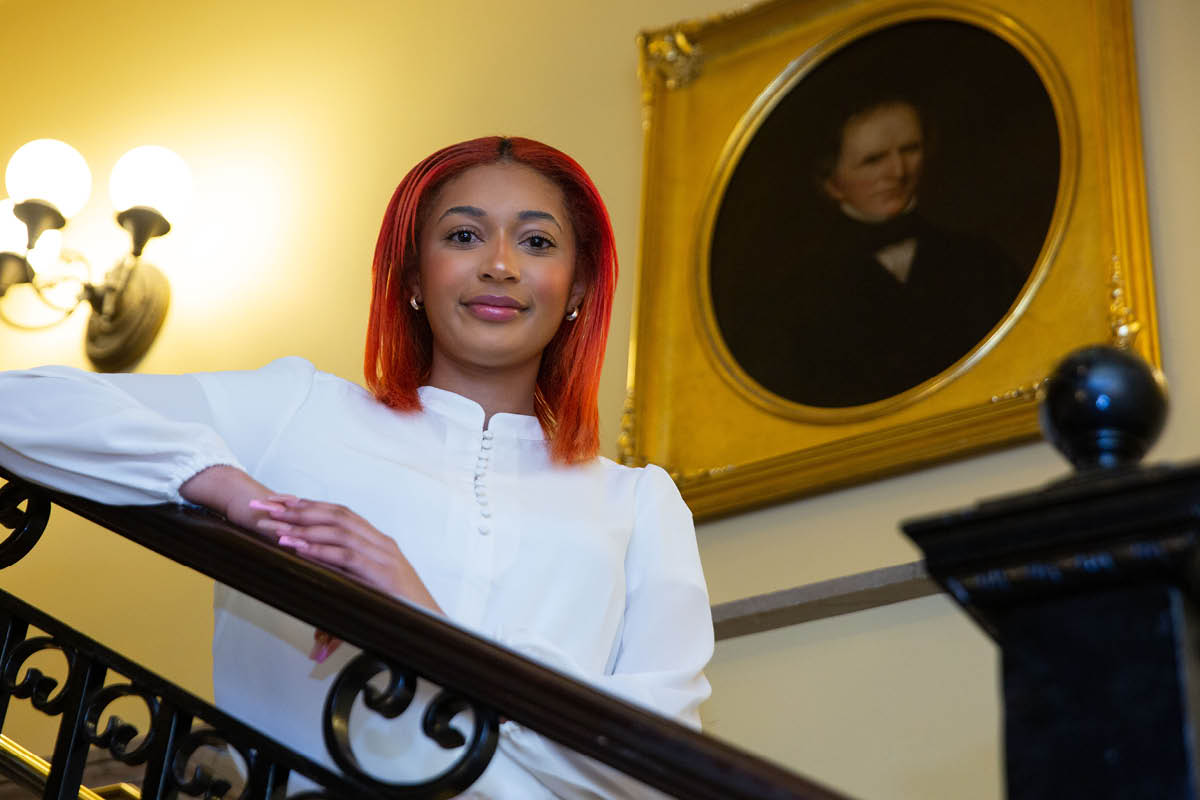 by Rachel Zeeve
For Laila Barnes, pivoting to a new field of study allowed her to bring her career aspirations into view. The Wilder School Virginia Capitol Semester program offered her an experiential learning opportunity to help build a foundation for her future success. This internship program allowed Barnes to spend the semester with Minority Leader Delegate Don Scott's office.
A political science and criminal justice double major, Barnes was first drawn to the Capitol Semester program by a desire to leave her comfort zone. Originally a business student in the management department, she followed her passions to the Wilder School.
"Two weeks into the business classes, I realized it wasn't feeling like my future," she reflected. "I've always been interested in social justice, the inner workings of social inequity and the history of those narratives. I met with my advisor at the time, and she told me that there was an introductory course in criminal justice. I took the course, switched majors and loved it. I had attended information sessions and met with my advisor about the Capitol Semester program, so I decided to apply and see where it took me."



"As a young Black woman navigating the professional world, I want to be able to share my thoughts that I had during my experience — whether good or bad. I'm hoping my final project will be a guide for those who come after me." – Laila Barnes
Experiencing Virginia government
As an intern with Delegate Scott, Barnes played an integral role in supporting the daily activities of the office by tracking bills and committee activity and organizing calendars and meeting notes. She also assisted with editing a newsletter, researching bills, attending constituent meetings and following legislation.
Even with a packed schedule, there was still time for some friendly comradery and competition amongst the legislators' offices. "I will always remember how seriously the entire building takes Valentine's Day," said Barnes. "The day before and the morning of, our office decorated our section of the floor to the max. It wasn't a competition, but I like to think that we won."
Barnes felt welcomed by the work environment as she honed her skills. "I felt comfortable while learning new tasks and developing myself as a student and future professional," said Barnes. "I would recommend applying for this program because it allows you to make future connections with legislators and community members."
In the classroom portion of the program, Barnes heard from a number of guest speakers that illuminated new perspectives in the policy world. Her favorite speaker was Governor L. Douglas Wilder, 66th governor of Virginia and the school's namesake. "When he came and spoke to our class, he had rich knowledge and wisdom regarding the state of Virginia," she said. "He made a comment about Virginia being a 'people's state', not a red or blue state. He is inspirational for his perseverance and accomplishments as the first African American to serve as governor of a U.S. state since the Reconstruction era, and the first African American ever elected as governor. He showed us how he went out and spoke to the people regardless of the background that they come from."
Barnes is committed to setting herself up for a fulfilling career. "Whenever I have a goal, I speak it into existence," she said. "I will graduate with high honors and build many connections along the way through more internships and career opportunities. I aspire to get accepted into law school and become a successful lawyer. The Capitol Semester program helped prepare me to reach these goals because the program gives you real responsibility in Virginia's legislature."
Barnes' project reflects her multifaceted experience in the program.
"As a young Black woman navigating the professional world, I want to be able to share my thoughts that I had during my experience — whether good or bad," she said. "I'm hoping my final project will be a guide for those who come after me."
Learn more about Sohfia Penida Garay's Capitol Semester experiences
Learn more about Edvard Evan's Capitol Semester experiences
2023 Capitol Semester interns Edvard Evans, Sofhia Penida Garay and Laila Barnes gained specialized experience working alongside delegates of the Virginia House of Representatives and the Virginia Senate. Photo: David Slipher

Learn more about Sofhia Penida Garay's Capitol Semester experiences