News
Future-focused: Undergraduate Eva McDonnell pursues lifelong goal of a career in criminal justice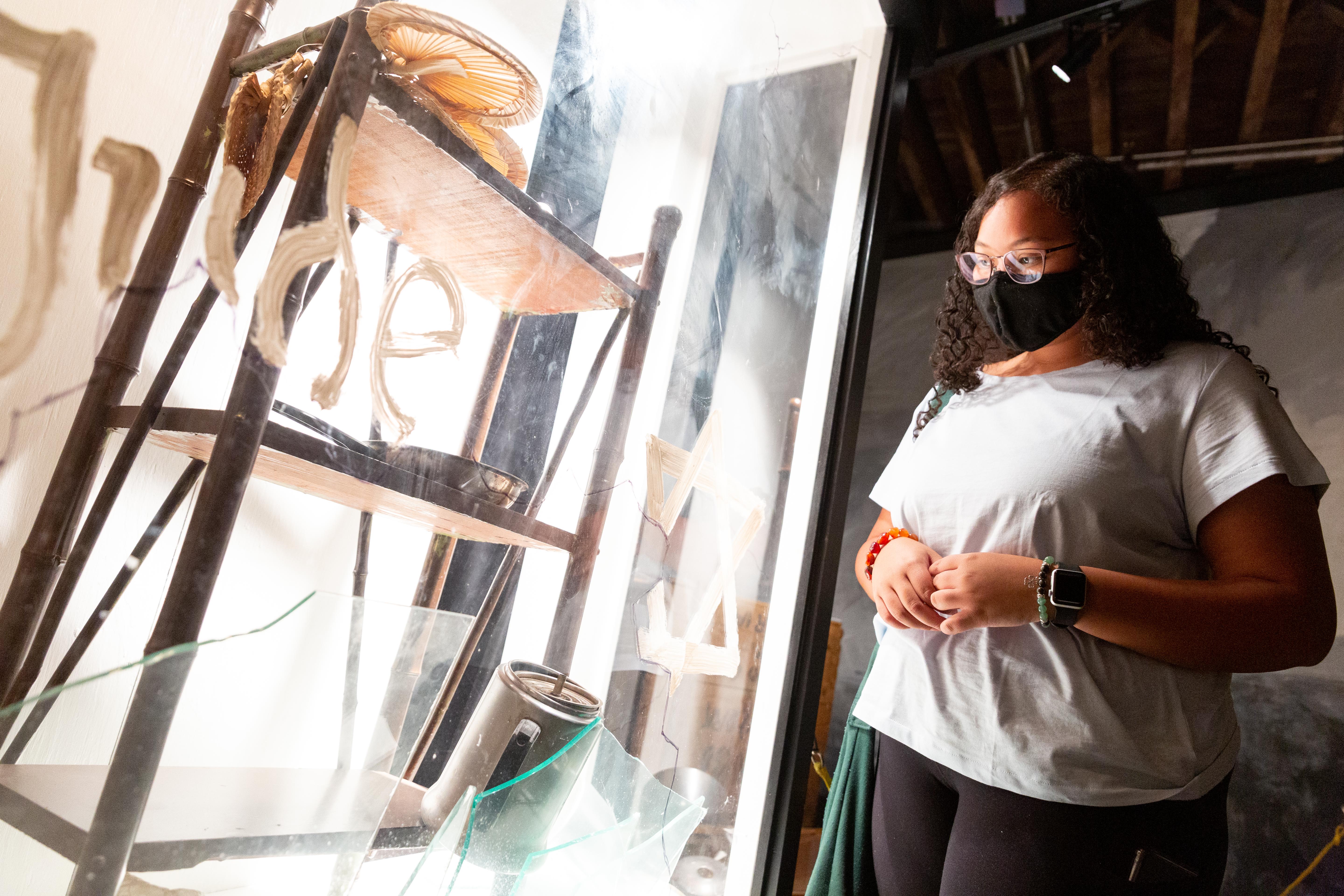 by Rachel Zeeve
While other children watched cartoons, Eva McDonnell watched "Criminal Minds" and "The Silence of the Lambs." Her early fascination grew as she did, and soon she was reading a spectrum of advanced literature.
"The first book that influenced my interest in the intersection of psychology and criminal justice was a book entitled 'The Science of Evil' by Simon Baron-Cohen. I read it when I was 12 years old and was so intrigued," said McDonnell.
McDonnell has continued this path, and today her sights are set firmly on a career as a forensic psychologist.
As a senior at VCU pursuing dual majors in criminal justice and psychology as well as an accelerated master's degree in criminal justice, rising to the challenge to develop her education and understanding has been a key priority for her and her family.
The 12-year-old version of McDonnell would be pleased to discover that her adult self will complete her undergraduate degrees in the fall of 2022, continue the criminal justice master's program and apply for the Clinical Psychology master's program. She also plans to pursue a Ph.D. or Psy.D. in the future.
Focused and prepared with diverse perspectives
Raised on a women-owned and operated farm in Spotsylvania, Virginia, McDonnell has always been a talented and ambitious student. "I learned so much growing up because I always had to be independent. I was homeschooled from second grade to high school and had to beg to attend public school because I wanted to take college-level courses," she said.
Even when the pandemic began during her second semester at the Wilder School, McDonnell didn't slow down.
Learning opportunities at the Wilder School are preparing McDonnell with the perspectives and experiences she'll need for career success.
"My coursework at the Wilder School has opened my eyes to the many nuances that are vital to understanding the criminal justice system," she said. "Classes such as Criminal Procedure and Drug Use, Drug Policy and Criminal Justice increased my understanding of those complexities."
Her favorite classes thus far are Bridging Perspectives and Trauma-Informed Responses.
Taught by Amy Cook, Ph.D., associate professor and chair of the criminal justice program, Bridging Perspectives is a unique course that encourages students to engage in open dialogues with law enforcement officers — who also participate in the class — across sensitive and often divisive topics. Paired with officers, students work to confront social justice issues and develop strategies for community-centered policing. Dr. Cook's guidance has encouraged McDonnell throughout her journey.
"This class allowed for students to have opinions and speak their minds, and I saw it as an opportunity to fine-tune my thoughts and opinions on law enforcement in an educated and wholehearted way," McDonnell said.
Trauma-Informed Responses, led by Tammi Slovinsky, Ph.D., features diverse guest speakers that discuss and analyze trauma across many forms within the criminal justice system — especially among first responders, inmates and vulnerable populations. The course also addresses how criminal justice professionals can better mitigate and navigate traumatic experiences and their effects.
"This class really proved how important my career goals are," she said. "All people deserve humility and understanding because all of us can experience trauma." McDonnell sees the knowledge that she gained from this course as essential for all Wilder students, no matter the field.
"My coursework at the Wilder School has opened my eyes to the many nuances that are vital to understanding the criminal justice system. Classes such as Criminal Procedure and Drug Use, Drug Policy and Criminal Justice increased my understanding of those complexities." – Eva McDonnell
Putting passion into action
McDonnell approaches her academic and professional aspirations with a strong desire to understand different points of view. It's motivated by her deeper love of helping people, no matter the situation.
"People who enter the criminal justice system should still be loved — they are humans too," said McDonnell. "They deserve punishment if found guilty, but they also deserve humility. If rehabilitation is the goal, understanding them is the first step. In my opinion, most of those individuals need someone to advocate for them. Most of the time, those individuals have gone through horrible things and deserve to be heard."
To further supplement her real-world experiences gained in both the criminal justice and psychology realms, McDonnell participated in an internship with the Richmond Autistic Integration Network (RAIN) where she served as a camp counselor. There, she assisted and engaged with children diagnosed with Autism Spectrum Disorder and other developmental disabilities to help teach social and developmental skills.
She was also trained in crisis intervention and de-escalation strategies. In addition, she volunteered at the Circle Adult Day Services. In this role, she aided participants with feeding, hygiene and companion services such as playing games. These opportunities helped her build a strong foundation in practical psychology.
Equipped with a fierce determination and empathetic lens, McDonnell is proud to represent the future of criminal justice professionals. "I want to be the best I can be for the people I am trying to help in my career. If I don't try to be the best at what I do, I will be doing my future clients a disservice — and my passion is solely for those people," she said.
McDonnell's impressive achievements demonstrate her unwavering commitment to public service and progress in the field of criminal justice. "My goals are to absorb as much knowledge as I can from the amazing minds of the professors at VCU — and then hopefully use that knowledge to make them proud."