News
Wilder School Students, Graduates Leading Effort to Restore Pump House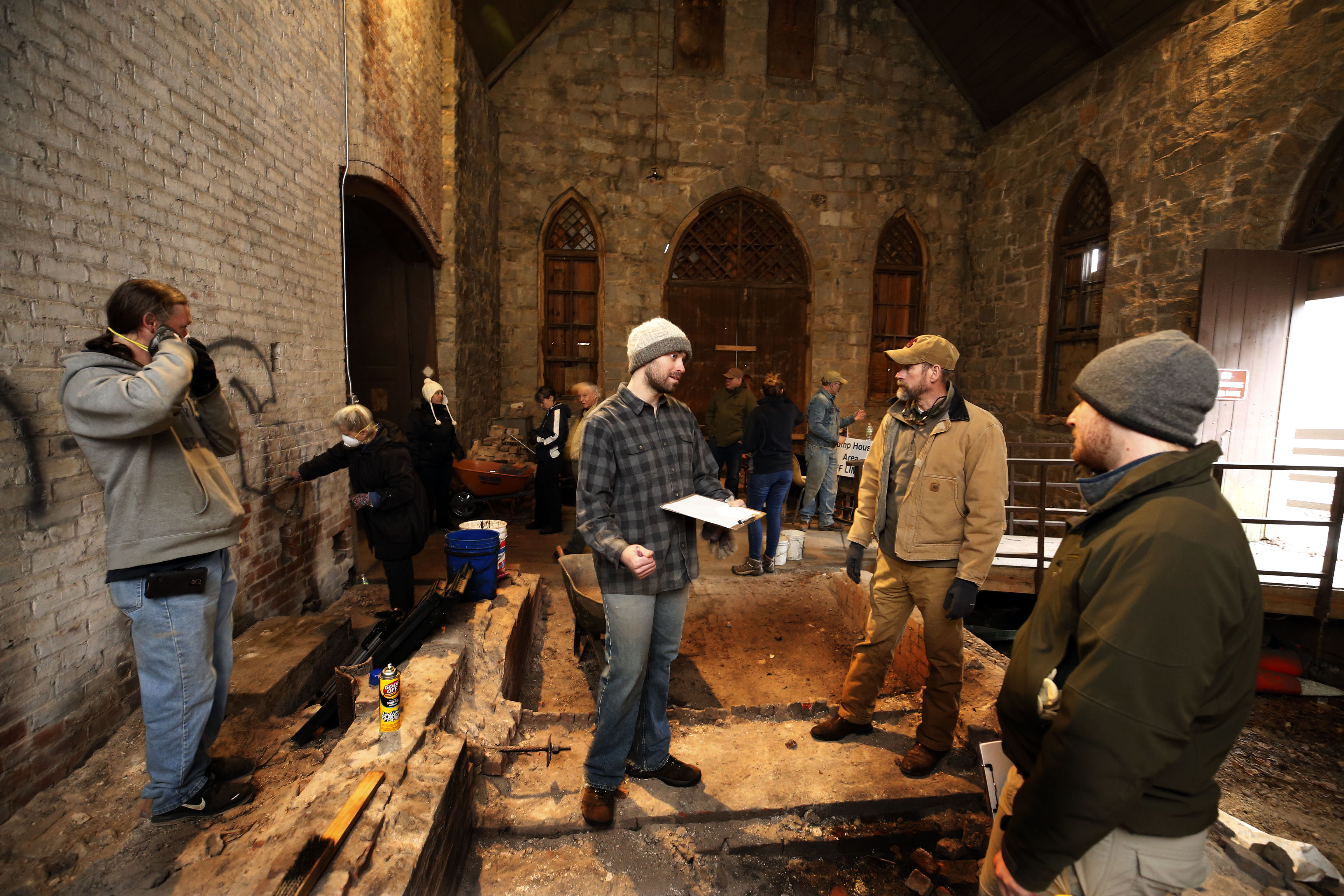 By Pamela Stallsmith
The granite gables of the Pump House stretch toward the skies like spires on a cathedral, a Richmond landmark on the north bank of the James River that's sat unused for nearly 80 years — and Wilder School students and alumni are helping to change that.
The Friends of the Pump House, founded and led by Wilder School graduate Joseph Costello, seeks to restore the nearly 140-year old Gothic Revival masterpiece and surrounding park and, ultimately, create a destination that visitors can enjoy for events and learn about its grand past.
Costello graduated from the Wilder School's Master of Urban and Regional Planning program in May 2017 and is now a regional planner at the Rappahannock-Rapidan Regional Commission.
His launching of the nonprofit group was a direct result of his 88-page professional plan for the graduate program last year that outlined his vision of revitalizing the building to its former glory.
"There was nowhere to send a check if you wanted to help," Costello said. "There are lots of people who want to see this happen, and now we have a group. More challenging to me was how to amass the momentum and keep people engaged. I remember thinking, 'this plan is going to sit on a shelf unless I create a group or a process.' "
He did, and the Friends of the Pump House continues to gain members and move forward. The all-volunteer board of 15 people includes several Wilder School students and alumni.
The Pump House Park, located on the same site as the first canal lock system in the United States, spans approximately 14 acres and is part of the James River Park System, which attracts about 2 million visitors a year.
Monthly cleanups are making a dent in removing nearly century-old debris and yards of coal dust and dirt.
"There's a lot of energy going into this," said Max Ewart, a board member who will graduate from the M.U.R.P. program next month and who's interested in park planning. "We care, and it's exciting to be able to apply the theory of planning to restoring the Pump House. What better way to put a stamp of approval on your degree?"
Much work lies ahead. The building needs water and sewer hookups, roof repairs and an outside elevator to comply with ADA requirements before a certificate of occupancy can be issued and allow public access to the building.
Pump House Clean Up Day

Saturday, April 7, 9 a.m. to Noon

1708 Pump House Drive, Richmond

Please RSVP to pumphousepark@gmail.com or 'attend' the event on Facebook

Pump House Twilight Tour

Saturday, April 14, 12 p.m. until dusk

The Friends have partnered with the city, Sound Arts Richmond, the Grace St. Seven, and the Virginia Canal and Navigation Society to do concerts and tours of the building.
M.U.R.P. Degree in Action
Costello presented the Pump House plan at last year's Plan-Off!, an annual event where M.U.R.P. students pitch their solution to a real-world planning, public policy or management problem to a panel of expert judges.
This year's Plan-Off is Friday, April 27, and will take place from 4-6 p.m. at the Virginia Housing Development Authority's Virginia Housing Center, 4224 Cox Rd., Glen Allen. It is free and open to the public.
"The Professional Plan is the capstone experience that most of our M.U.R.P. students select, as an alternative to a traditional academic thesis. Through that course, students complete an intensive four-month planning process to address a given issue or concern on behalf of a client from a real-world government or nonprofit agency," said Damian Pitt, Ph.D., associate professor in the Wilder School's Urban and Regional Studies and Planning program and one of the coordinators of the Professional Plan process.
"Joe's project was particularly rigorous, as he conducted an extensive stakeholder outreach process, analyzed all of the relevant data, and produced dozens of maps to assess on-the-ground conditions in the project area."
James Smither, a Wilder School instructor who was Costello's primary content adviser, called the Pump House plan "highly creative in how to reuse the interior of the building for community purposes throughout the year, while celebrating this historic character.
"Additionally, he navigated a very complex site in terms of ownership, easements, vegetation, and topography to enhance the Pump House's connection to adjacent neighborhoods and the James River," Smither said.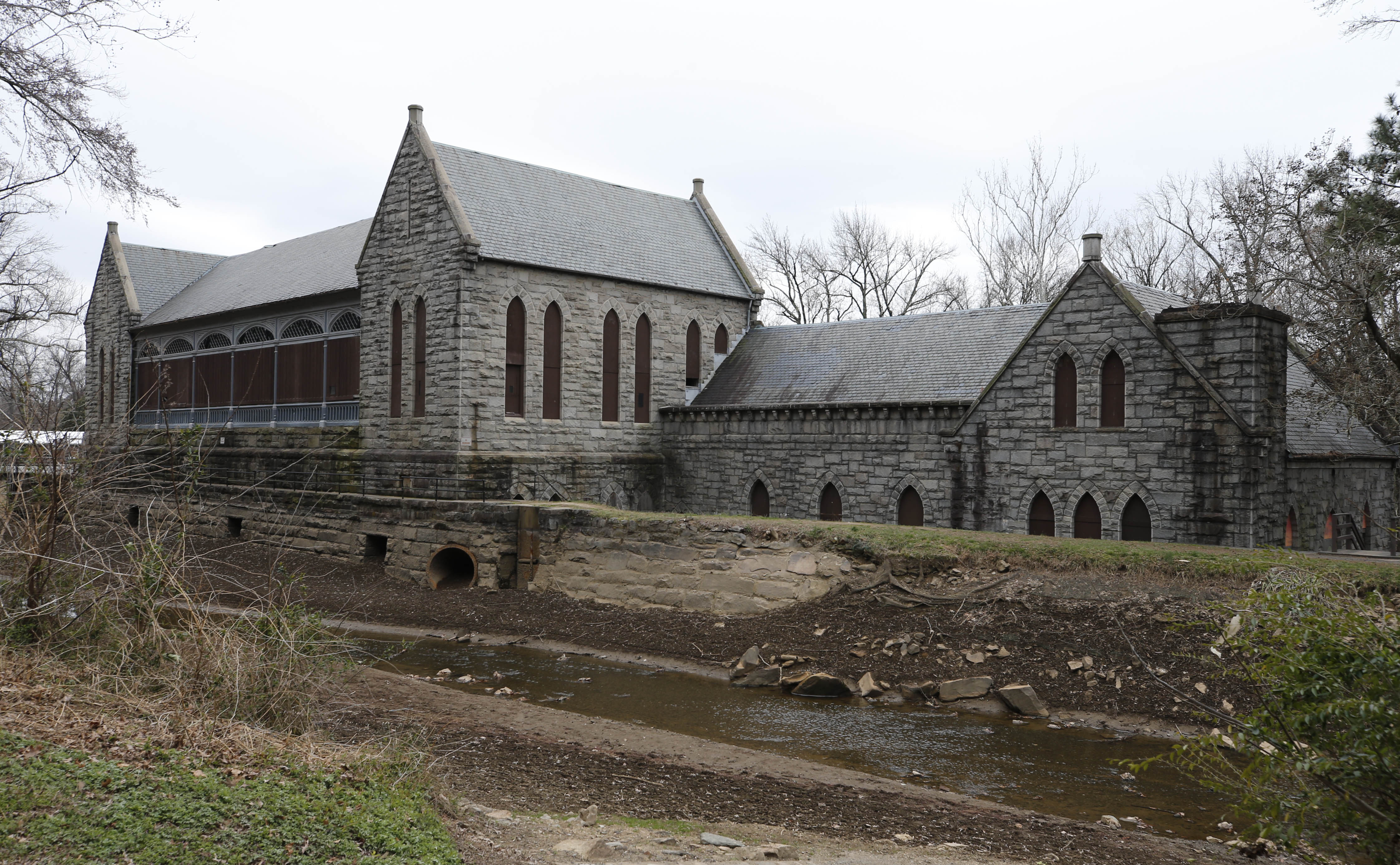 'A Cool Spot'
Costello grew up in Yorktown and earned his undergraduate degree in political science and history from Christopher Newport University. At the Wilder School, Costello was also a Wilder Graduate Scholars Fellow, which gives outstanding graduate students professional work experience, instate tuition and a stipend.
Costello became interested in the Pump House because he and his friends visited the James River Park frequently.
"The Pump House is such a cool spot, and I thought it was a shame it wasn't being used," he said.
He approached Nathan Burrell, park superintendent of the James River Park System, about the project and gained nonprofit status for the Friends by partnering with the Enrichmond Foundation, which gives groups the ability to apply for grants and solicit tax-deductible contributions.
Burrell said Costello's plan reinvigorated efforts of turning the Pump House, which has long held the imagination of Richmonders, into something more than just an abandoned stone structure.
"Working with the James River Park System, Joe has taken the revitalization plan and is running with it. His effort—combined with the board of Friends of Pump House, Friends of James River Park and James River Park staff—has kicked this project into high gear, garnering much publicity and new infusions of funding for the building and grounds," Burrell said.
"This important effort cannot happen with our great partners like Friends of Pump House Park and I look forward to our continued partnership to open this facility to the public."
Board member Katherine Fisher met Costello last year when he worked as Wilder Fellow at the Virginia Department of Social Services, where they were cubemates.
"I've always been interested in the Pump House," she said. "It's a beautiful building. Why wouldn't you want to restore it?"
Natural Splendor
The pump house and its surroundings are rich in history and natural beauty. Not far from the Pump House is "Washington's Arch," the site where George Washington outlined his vision for the James River and Kanawha Canal to city officials.
Native plants abound, including red maple, sweet gum, American sycamore and black willow trees. The James provides an abundant feeding ground for Great Blue Heron, Cormorants and a vast array of other birds. Paths allow bicyclists and hikers to explore the undulating terrain.
"There are so many assets here," Costello said. "There's a huge untapped market. I love Richmond, and it's really been cool to see how we've moved the needle on the Pump House."
Costello and the board take their message about the Pump House and its possibilities to events, farmers markets and any venue that will listen to their story. In early June, for instance, they'll make a presentation about the project to the Society for Industrial Archeology's annual conference.
Besides the board, an advisory committee includes members from the city's Department of Public Utilities, Department of Historic Resources, Historic Richmond Foundation, the Virginia Canal and Navigation Society, Friends of the James River Park and Venture Richmond.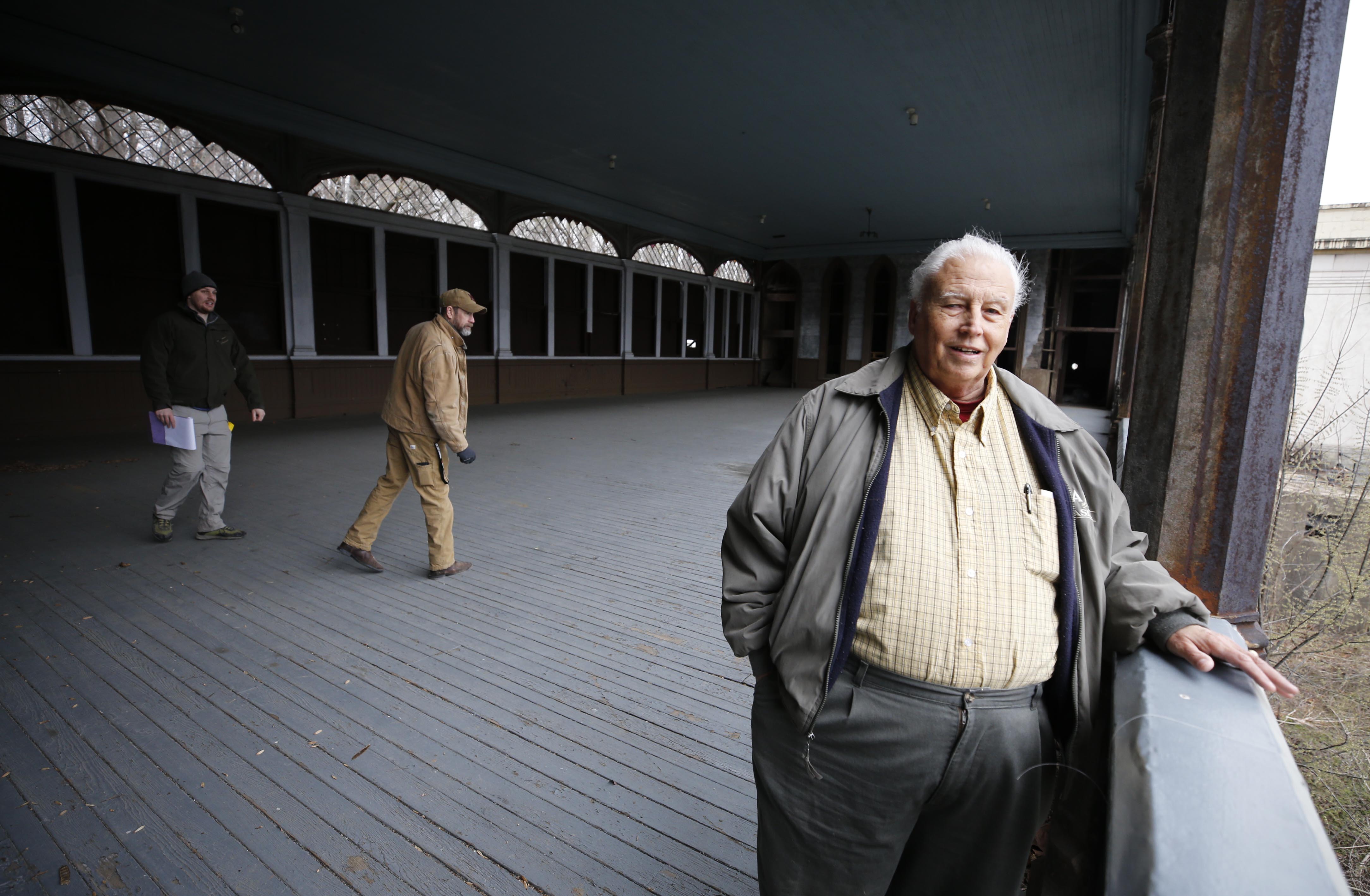 Dance Hall Days
The Pump House served as the city's waterworks from 1883 to 1924 and was a popular gathering spot. Richmonders could board a flat-bottomed boat at Seventh Street and enjoy a leisurely ride up the canal to the Pump House, which featured an open-air dance hall, or pavilion, on the second floor above the equipment room.
According to the Friends, the Pump House had the reputation of being one of the only buildings in the country designed and used as both a public utilities building and a social hall.
The building closed in 1924, and its machinery was sold off for scrap metal before World War II. The city slated the Pump House for demolition in the 1950s but sold it instead for $1 to a local church, which didn't have the resources to properly restore it. Ownership eventually went back to the city.
During a recent clean up, volunteers donned face masks as they shoveled dirt, moved bricks and removed graffiti off the brick walls.
"You see what we started with," said Cassandra Patterson, a second-year M.U.R.P. student who will graduate next month, gesturing to nearby piles of once loose-bricks, broken timbers and pieces of rusty scrap metal, now neatly stacked or gathered.
"You can just picture what it would be like in here, and I hope to be able to see that someday," she said. "It's just awesome how the community has come together."
The construction details speak to the artistry of the building and the effort that went into it. A herringbone pattern of bricks covers the first floor. The stucco on walls is reinforced with pig bristle. Heart-of-pine floors are still largely intact. The granite is believed to have come from quarries located within a mile of the site, said Lyn Lanier, a longtime volunteer and historical expert known as "Mr. Pump House."
"This was labor-intensive stuff," Lanier said. "Almost everything was done by hand. Very little was done by machine. "
The project complements the region's efforts to promote the James River Park System, one of its top assets.
"The river is essential to the city's identity," said Ewart, the board member, "and this is a landmark that people care about."