News
Wilder School Alumni Changemaker: Jovan Burton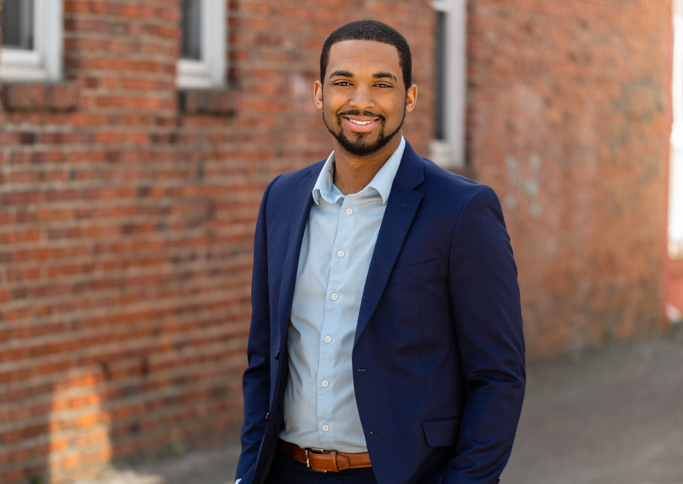 by Rachel Zeeve
Housing accessibility has a complicated and storied history in the Richmond region, and it's a past Jovan Burton (M.P.A.'21) is working to transform. As the executive director of the Partnership for Housing Affordability (PHA), a nonprofit dedicated to advancing affordable housing policies and programs, Burton is a tireless advocate for fostering diverse, equitable and inclusive communities.
In 2018, data from the Princeton Eviction Lab cited Richmond as having the second-highest eviction rate in the country. But through proactive public policy, Burton and PHA are playing a key role in affecting change by supporting underserved populations with the opportunities and resources they need to thrive.
Building equitable communities and a career in policy
Burton's passion for housing policy began during his time as an undergraduate at Hampden-Sydney College where he studied government and foreign affairs. There, he conducted a study on discriminatory housing policies nationally and their far-reaching ripple effects such as sustaining racial disparities among neighborhoods.
After graduation, Burton joined AmeriCorps, which matches participants with nonprofits for a year of service. He was first matched with PHA through the program. When the year was over, he transitioned to working for the state's housing finance agency, Virginia Housing, in the low-income housing tax credit department. In 2019, he returned to PHA as the director of implementation to drive their regional housing strategy forward.
Shortly afterward, Burton enrolled as a part-time student in the Wilder School's Master of Public Administration program, which helped propel his career forward as he soon navigated the jump to executive director.
The MPA program's flexibility was integral to Burton's professional development. As his career progressed, Burton was at first unsure about how he would balance his coursework with ever-increasing work responsibilities and multiple board memberships. However, the program turned out to be a perfect fit. "I think that the Wilder School overall has shown — especially during the pandemic — the ability to be adaptive for folks that are working professionals while also striving toward a degree. I'm extremely grateful for that, because otherwise, I don't know how it would have been possible."
"We can take the long view, be strategic, take these steps and make investments to ensure that the next generation has a much better opportunity to build wealth." -Jovan Burton, M.P.A. '21
During his time at the Wilder School, Burton was able to seamlessly apply concepts from the classroom in real-time; the research methodologies from his classes often overlapped with projects he was conducting at work. "I think it's an exemplary program, and that is illustrated by the fact that if there's anything you're looking to learn more about or add to your repertoire, the program has it," he said.
A recipient of the Elizabeth Roderick Scholarship in Public Administration, Burton exemplifies the scholarship's goal of supporting students pursuing a nonprofit career. As a growing leader in his field, Burton knew that the opportunity aligned with his professional trajectory.
"The MPA was the most versatile and applicable degree that I could pursue for the kind of work that I do," he said. "No other degree would allow me to focus on policy and research while also including financial management and budgeting, human resources, leadership development, organizational development — all of that in one. I thought, 'this perfectly aligns with everything that I am doing currently in my profession and everything that I aspire to do.'"
Taking a multifaceted approach to housing accessibility
A wealth of volunteer experience further demonstrates Burton's comprehensive commitment to public service. He serves on the board of directors for Area Congregations Together in Service, Greater Richmond Continuum of Care and Housing Families First.
"All three of those organizations are a little bit further down on the housing spectrum," Burton said. "Housing is a continuum with homelessness at one end and homeownership at the other end. Even though a lot of the work that I do professionally is focused on housing, homeownership and policy, those areas are influenced a lot by what happens at the other end of the spectrum with the homeless services that these organizations provide," he said. "It's been really great to participate and serve on those boards. Housing accessibility has a lot of different angles, and we need all hands on deck here in the region in order to effectively address it."
By tackling issues across the housing continuum, Burton is making a long-term impact.
"Housing is one of the greatest economic drivers that we have in the country. It's also the greatest way that people build wealth in this country… We can take the long view, be strategic, take these steps and make investments to ensure that the next generation has a much better opportunity to build wealth. In doing so, we can begin to reduce some of the disparities that we see. That's incredibly rewarding."