News
Class of 2022: Michael Kyrychenko sets his sights on a public service career in criminal justice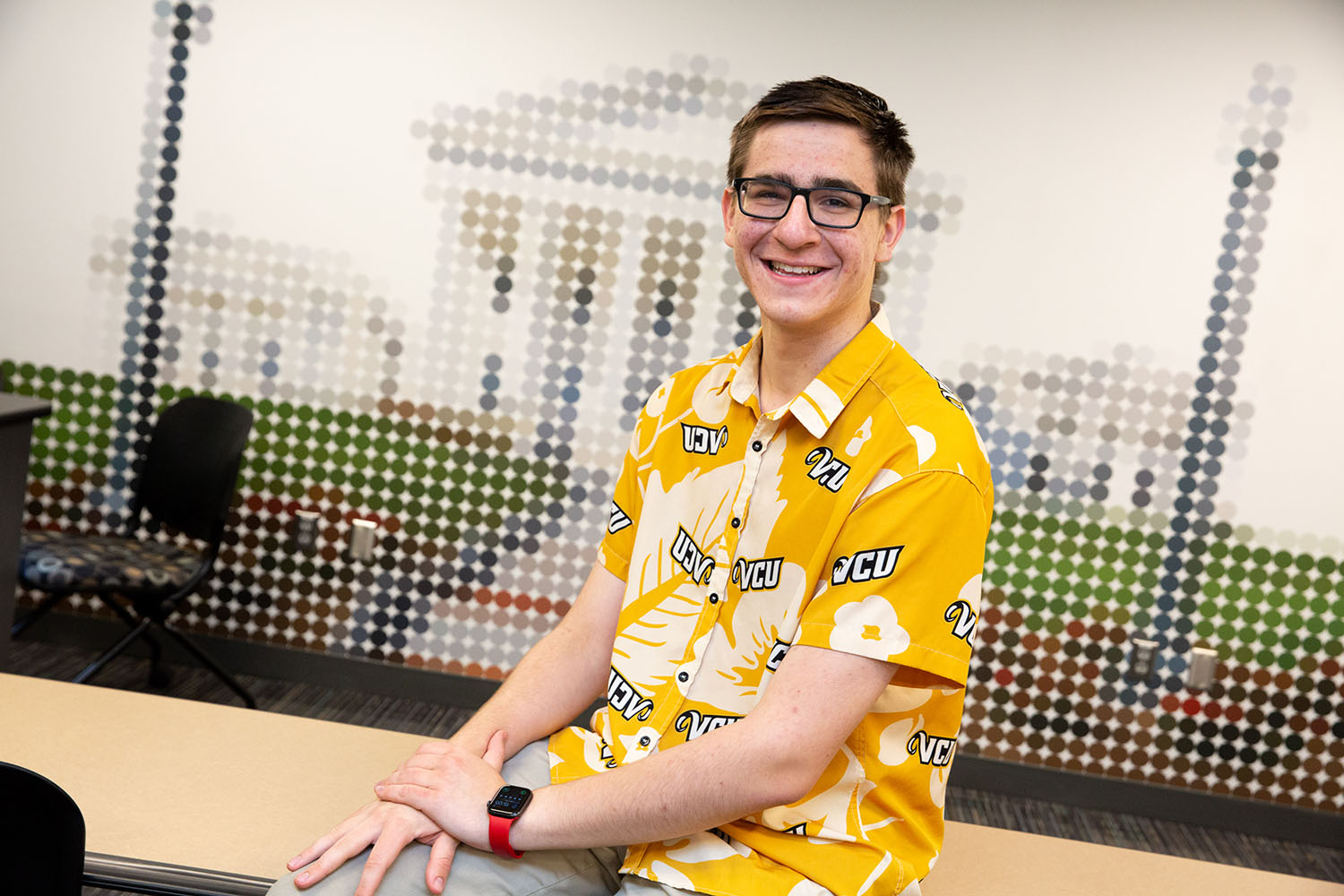 by David Slipher
As a criminal justice undergraduate student at the VCU Wilder School of Government and Public Affairs, Michael Kyrychenko is engaged in his community and prepared for success.
From an early age, Michael Kyrychenko dreamed of being a police officer. Throughout high school, he remained determined to pursue higher education to prepare for a career in law enforcement. When browsing programs at VCU, he parsed through many different majors' required courses. "Criminal justice really stood out to me as a major where I would be very interested in what I was doing," said Kyrychenko. "I'm happy that I was proven right. The Wilder School was somewhere where I really fit in, and I even added a homeland security minor so that I could branch out in this field."
Exposure to criminal justice-related opportunities has provided Kyrychenko with a solid background to build upon his career interests. He was part of the inaugural Bridging Perspectives course at the Wilder School where he collaborated with local police officers to expand an understanding of police-community relationships. He interned with probation officers in Community Corrections and later with the Police Division in Henrico County. He's helped train drug K-9s and even donned the McGruff crime-fighting dog mascot costume in support of the Chesterfield Police Department.
His inquisitive nature and attention to detail are the formative traits of a lifelong learner. "I like to ask thoughtful questions and dig into topics that don't yet make full sense to me," Kyrychenko said. "In my free time or when talking to friends about criminal justice topics, I am known for my love of looking things up in the Code of Virginia to learn what exactly a law says and how it came to be that way."
Kyrychenko's college experience has been somewhat of a whirlwind. With many high school AP course credits under his belt, he's kept his advisors on their toes as his graduation timeline continued to shrink. He's now graduating after only two years, one of which came during the first year of the pandemic. Despite the irregular circumstances, he still managed to find time to get involved in internships, volunteer work and extracurricular activities.
He tutors middle-school students online, serves as vice-president of the VCU Russian Club, and is a social sciences co-editor for "Auctus", the undergraduate research journal of the Honors College at VCU. He also served as chair of the Eta Lambda Sigma Homeland Security Fraternity volunteering committee and served as a poll worker across five elections in Arlington and Richmond. To round things out, he also participates in a knitting club.
The son of Ukrainian parents who immigrated to Baltimore, Md. to attend college, Kyrychenko's heritage is an important part of his identity. In elementary school, he spent every summer with his grandparents in Kharkiv, Ukraine. Along with speaking Russian at home, an international worldview built his language fluency and cultural pride. For his 17th birthday, Kyrychenko took a cross-country trip from Kharkiv to Kyiv to Lviv.
Kyrychenko stays involved in the communities through volunteering with many groups, like the Richmond Police Athletic League.
Since the beginning of Russia's war against Ukraine, Kyrychenko has kept his classmates up to date on the situation and the toll it has taken on his family and friends.
"One thing that I wish people would consider about the war is the human factor," he said. "This conflict is not a TV show and it's not just headlines in the news. Hundreds of thousands of Americans have family and loved ones directly affected by the fighting. The war and the United States' role in it has become very politicized, but it's important to not let compassion get lost in the fray."
A global mindset has furthered his preparation for success. As a newly-minted honors graduate in May — and the Wilder School Commencement Class of 2022 undergraduate speaker — Kyrychenko hopes to become a police officer in the Commonwealth of Virginia.
But he's also exploring other employment opportunities with police departments in the Richmond area and in Northern Virginia, plus some state agencies. Kyrychenko is interested in the Virginia Alcoholic Beverage Control Authority (his Senior Seminar term paper focused on preventing underage DUIs) as well. He's also already been accepted to the Master of Public Administration program at the Wilder School.
Eventually, Kyrychenko hopes to work for a federal agency where he can apply his native Russian fluency for national security purposes. Ever looking to the future, he aspires to retire early and spend his time outdoors as a park ranger.
While he's yet to decide on his next path, his internships, community involvement and volunteering have prepared him with a range of skills to draw on.
"Nobody's path is linear, and mine certainly wasn't," said Kyrychenko. "Life is full of setbacks, unforeseen circumstances, and plans not going your way. Some days it seems like my luck has just run out. But I've found that the harder I work, the luckier I get."