News
HIGHER Ground Women's Leadership Development graduates learn to lead with compassion.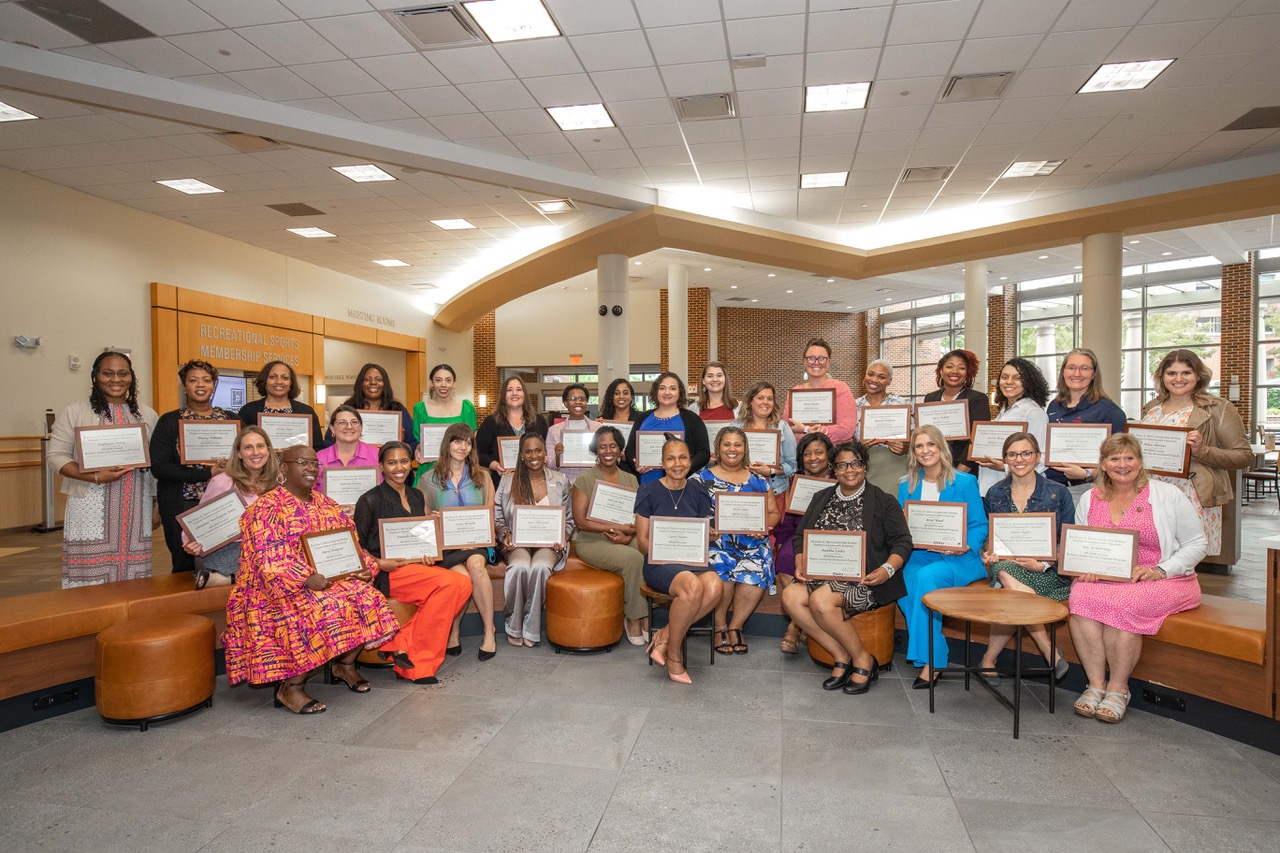 HIGHER Ground Women's Leadership Development Graduates Learn to Lead with Compassion
The 2023 HIGHER Ground Women's Leadership Development Program graduation ceremony conveyed a crucial message: "A good leader leads collectively but learns their employees individually." Thirty-four outstanding leaders completed the program, offered by the VCU Wilder School's Grace E. Harris Leadership Institute (GEHLI) under the direction of Antoinette Allen, Ph.D. Allen says leadership development fosters innovation and creativity, allowing leaders to self-assess and evolve.
"Throughout our program, we highlighted the power of stories. The need for transformational leaders, who we call superheroes," said Allen. "We asked our leadership students to use compelling narratives that inspire hope, inspire motivation, unite action, and implement grace."
The HIGHER Ground Women's leadership Development program spans five-months, providing women at all career levels with an opportunity to grow personally and professionally. Participants engage in intellectual and experiential workshops, coaching, and networking to help them leverage opportunities for advancement. During the graduation on June 16th, Dr. Allen debuted a special song titled "Guided By Grace," dedicated to the 2023 cohort and paying homage to Dr. Grace E. Harris. The words - "A leader inside waiting to be found, With Grace as my guide I'll stand on Higher Ground" is an encouragement never to give up and rise to the challenge of leading with compassion. Each leader received a certificate, a GEHLI pin, and a gold-painted "treasure box" containing inspirational quotes.
Carol Adams, a police captain with the City of Petersburg, delivered a message on behalf of the class, declaring: "We are going to multiply what we have learned. We are going to model and nurture other women and do things that haven't been done before." Adams further expressed her appreciation for the program highlighting the recognition and sense of value it bestowed on the participants.
Her classmates had similar praise for the program. Malikha Forbes, a residence hall director at Virginia State University, says this program is unique and different from other leadership programs. "I learned many leadership techniques that I will be able to utilize throughout my career. It has helped me to self-reflect and remember to take a moment for myself with self-care."
Another classmate, Sue Armstrong, a strategic housing officer with Virginia Housing, encourages future students to "invest in yourself. Enjoy the moment because this program is for you and a time to self-reflect."
The keynote speaker was April Bingham, director of public utilities for the City of Richmond. Bingham is the first African-American woman to serve in this role and one of only five women to hold the position in the United States. Along with her advice to "lead collectively but learn your employees individually," she encouraged the graduates to keep inspiring employees and to lead with compassion.
"There is much work to be done to ensure that we are making spaces for our women." Bingham continued, "that we are creating spaces where women can be seen, heard, and valued. That our future is reflected in the leaders and the areas that they serve. That our children understand that they can embrace diversity and they can live in a world where equity and inclusion are options for us all."
The 2023 annual Higher Ground women's leadership conference will take place on November 3rd at the Richmond Marriott, with the theme of "Overcoming Grief, Grudges, and Guilt with Grace.
Dr. Allen's leadership of the Grace E. Harris Leadership Institute commenced in January of 2023, making this the first cohort of students under her direction. She says it is a rewarding opportunity to continue the work of Dr. Grace E. Harris by upholding her values in leadership development and sharing them with a new generation of leaders. Born and raised in Charles City and Henrico County, VA, Allen says her grandparents were her safe place, and their encouragement was the catalyst to her becoming a life-long learner.
"My grandfather told me one day when I complained about homework, 'Baby, you got to get your lesson.' Neither of my grandparents graduated high school, but their encouragement pushed me to be the first member of my family to graduate college and the first woman to serve in the military."
After graduating high school, she entered the United States Air Force, then earned an associate degree in logistics, a bachelor's in human resource development, and a master's degree in behavioral science. In 2017, she received her Ph.D. from Old Dominion University in Education. She has extensive experience in leadership development serving as a full-time faculty at the esteemed Federal Executive Institute, a training center for senior level government leaders, where she perfected the inclusion of creative arts-based learning techniques (art, dance, music,
and poetry). Allen also served as a technical advisor in the Internal Revenue Service's Leadership Academy and as an adjunct faculty in the Federal Bureau of Investigation's (FBI) leadership development program while serving as a senior manager for the agency. She says the FBI Leadership program is where she discovered her passion for growing better leaders.
"I fell in love and discovered it was the best part of my job, so I decided to pursue positions that aligned with my passion, and the rest is history."
Allen is excited about what's to come for GEHLI. She says a new partnership with the Wilder School's Performance Management Group will allow it to reach more leaders and infuse the core value of GRACE in its programming: Generosity, Reconciliation, Agility, Collaboration, and Elegance. She has encouraging advice for anyone who is developing their leadership style.
"Choose to incorporate forgiveness into your leadership strategy, and you will find a need to use it daily as you lead yourself and others to engage in various agencies and systems. It benefits individual team members and organizations, yet is the most overlooked leadership trait"
Congratulations to the Class of 2023 HIGHER Ground Women's Leadership Development Program. Click to view the program with graduate pictures and inspirational quotes.