News
Future-Focused: Amy Clifton-Mills takes an innovative approach to criminal justice research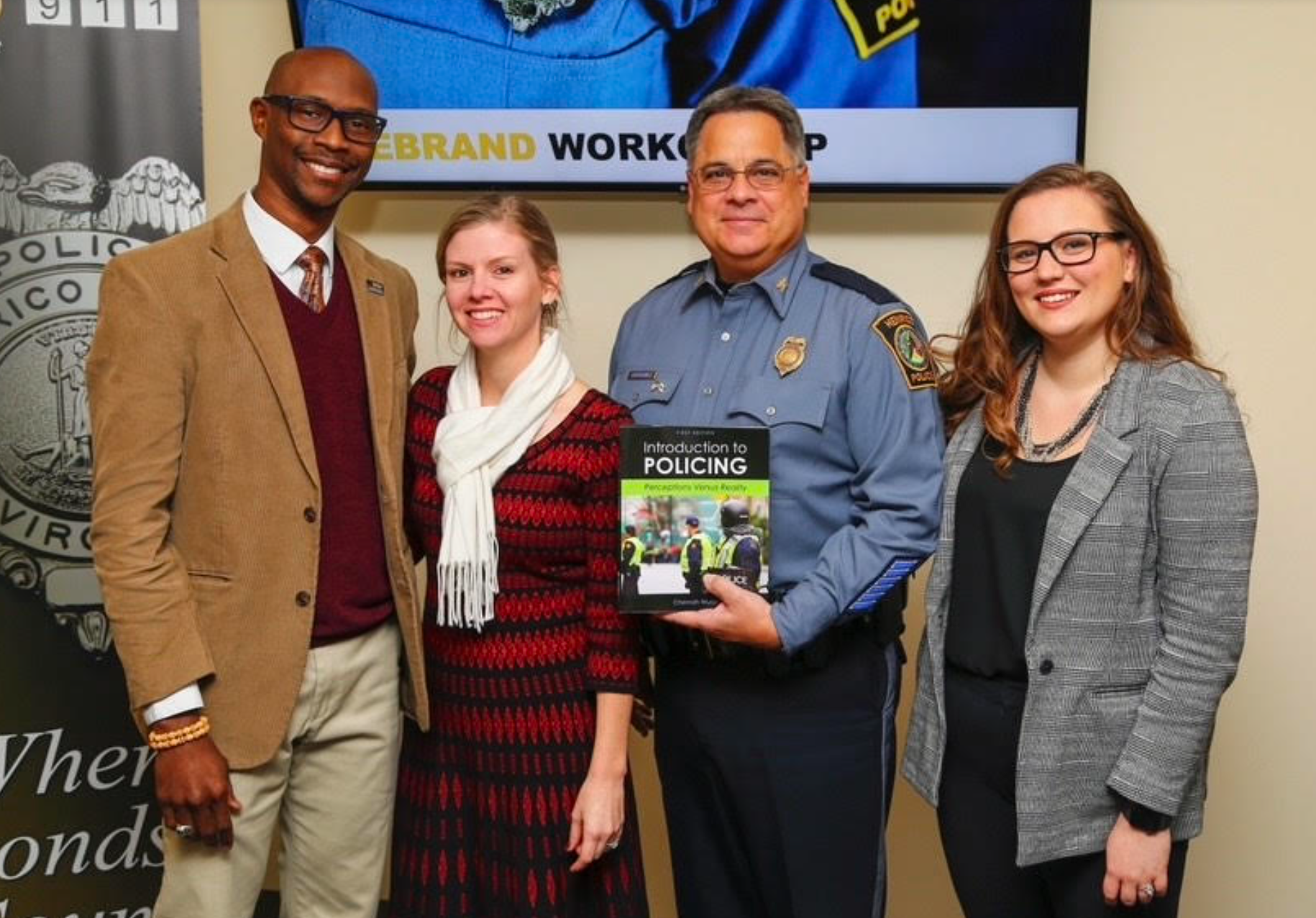 For Amy Clifton-Mills (M.S. '19), pursuing criminal justice was an obvious choice. Raised on "Law & Order" and "CSI," Clifton-Mills' curiosity and self-proclaimed "nosiness" grew into a passion for social sciences. Now a student in the Wilder School public policy and administration Ph.D. program with a concentration in criminal justice policy, she's putting a childhood dream into action.
Clifton-Mills began her academic journey with dual bachelor's degrees from Old Dominion University. She double majored in criminal justice and sociology with a minor in psychology. A decision to move closer to her hometown of Fredericksburg, Va. brought her to the Wilder School for the master's program in criminal justice.
Her original plan was to study for the LSAT while working on her graduate degree. However, she quickly returned to the idea she'd had as a child — she found she was primarily interested in the inner workings of the criminal justice system.
Merging coursework and research
A range of courses at the Wilder School helped her determine and focus on a trajectory. In her first semester, she took a course that focused on terrorism. Clifton-Mills was encouraged to think outside the box, and she wrote about the KKK as a terrorist organization. She was the first person in the class' history to pursue this topic, and she was enthusiastic about applying her knowledge in innovative ways.
She also took a course with Associate Professor Hayley Cleary, Ph.D. "The course was focused on how to turn your research into a marketable product, for lack of a better term," reflected Clifton-Mills. "I learned how to explain research to non-researchers. It was during that class that I decided to get my Ph.D. — I finally had one of those moments where I realized I could do that kind of work forever."
While Clifton-Mills was finishing the master's program, her husband was attending police academy. "That's when I realized that I wanted to look into how police are trained," she said. "I wanted to know how we can better train police so that certain groups of people — specifically people of color — are not disproportionately, negatively affected by interactions with police. All of my research has always had a focus on racial discrepancies and inequities."
As she continues her journey in the public policy and administration program, she stands motivated and prepared to make her career aspirations a reality. "I want to be a professor and do research," she said. "My goal is to work with policymakers, lawmakers and police departments to combine research, experience and the voices of police officers and community members to bridge gaps and solve issues.'"
Gaining hands-on experience
Internships with the Richmond Police Department and the Virginia General Assembly helped her gain an insider perspective on the institutions that she hopes to reform to advance equity.
"A common sentiment in political discourse is that if you haven't taken the time to learn about an organization, then you can't truly understand its policies," she said. "I realized that to do policing research, I wanted to be able to say that I've interned with the police department, and I've been in those meetings with the higher-ups. It's the same thing with the General Assembly. I wanted to be able to say that I was involved in those conversations to lend to my future credibility as a researcher."
"My network at the Wilder School is made of people who said, 'having a baby during your Ph.D. program is not going to be the easiest thing in the world, but we believe you can do it.' They all supported me and believed in me when I did not quite believe in myself, and I think that is a real testament to the people at the Wilder School." – Amy Clifton-Mills (MS '19)
This credibility has taken her far — Clifton-Mills currently serves as a project coordinator for the Sexual Awareness and Viewpoints among Virginia Youth (SAVVY) study led by Cleary. This National Science Foundation-funded grant project is designed to understand how teens conceptualize risks in their own behaviors.
"The survey includes all kinds of different social, legal and health risk-related questions. We ask teens about their own behavior. My role is to make sure that the data is coming in without missing pieces. A lot of my work so far has been overseeing our data management tool, developing the second survey and keeping track of data as it comes in."
Clifton-Mills plays an integral role in Cleary's work. "I've had the pleasure of working with Amy in so many capacities — as a master's student, a doctoral student and a graduate research and teaching assistant," said Cleary. "Now, I'm her dissertation chair. I tapped her to direct my grant-funded longitudinal study. Amy really embodies the Wilder School ethos — a strong scientific focus on real-world problems to drive evidence-based policy reform. She's a quick thinker, hard worker and eager learner. I can't wait to see where she goes next."
Building intentional networks
Clifton-Mills continues to thrive and embrace new learning opportunities. She was recently named a recipient of the 2023 Doctoral Summit Scholarship from the Academy of Criminal Justice Sciences (ACJS) and will attend the 2023 ACJS Conference.
"Conferences are so important because they introduce you to new research, ideas and potential collaborators," she said. "I am especially excited about this scholarship and the opportunity to attend this conference because I started the Ph.D. program in August of 2019, and with the pandemic and having a baby, I wasn't able to go to conferences earlier in my academic career."
She's also committed to expanding her already-robust network of academic and professional contacts. "Without the support and trust that my network has had in my abilities, I don't know that I would still be in the program," she said.