News
Championing Equity: The 2023 Wilder Symposium Tackles HBCU Funding Disparities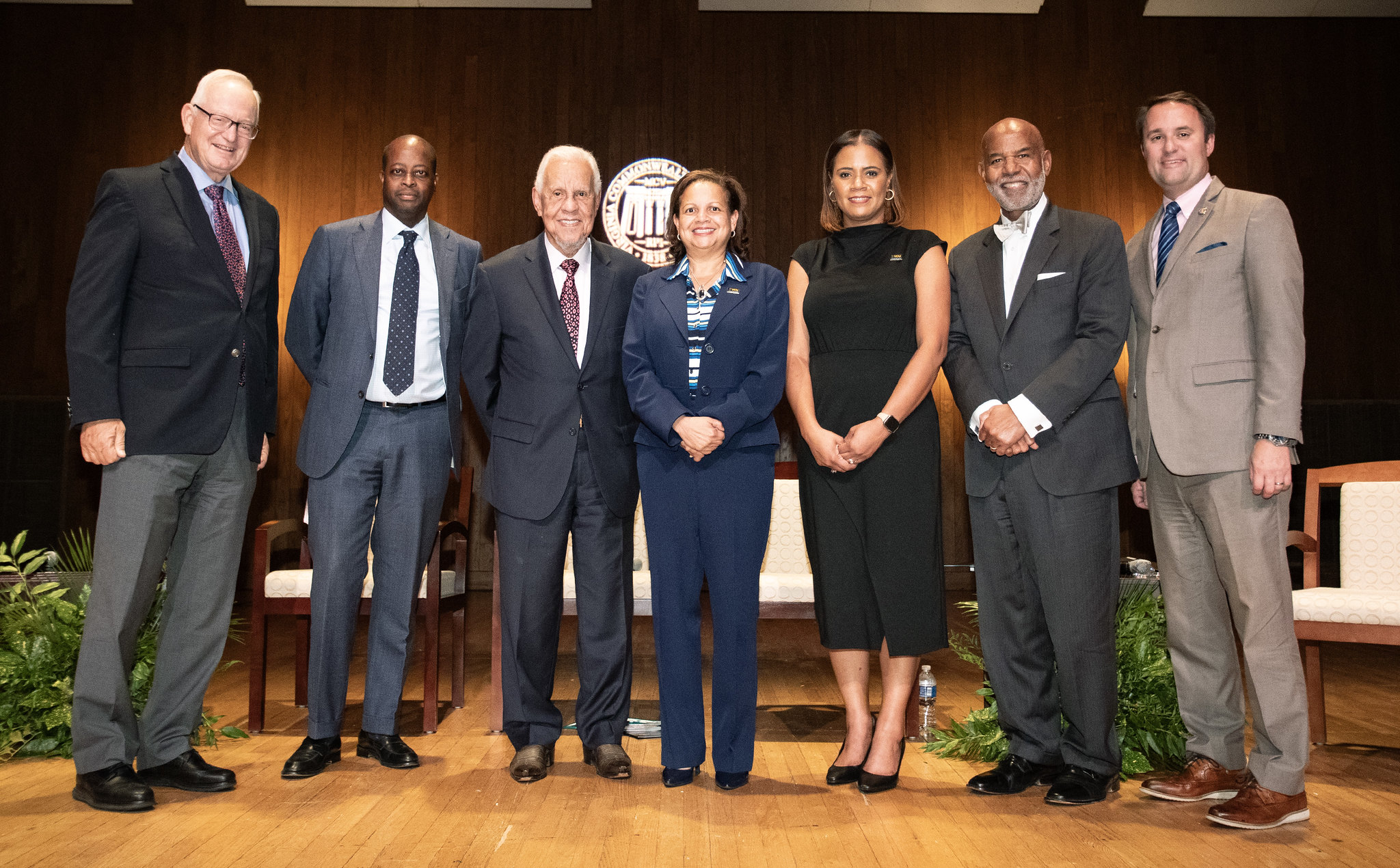 By Pam Cox
Historically Black Colleges and Universities (HBCUs) have a rich and significant history in the United States. They were established before the Civil Rights Act of 1964 when racial segregation and discrimination prevented Blacks from enrolling in predominantly white institutions (PWI). Today, HBCUs produce 20% of Black college graduates but face significant underfunding compared to PWIs. It's a crisis that impacts financial support for students, technology resources, and building infrastructure.
The 2023 Wilder Symposium, "HBCUs and the Absence of Support," addressed this disparity in funding during a panel discussion held on Thursday, September 28, at the VCU Singleton Center for Performing Arts. Nearly 300 guests attended, and an additional 170 joined virtually. The esteemed panelists included Dr. Wayne A.I. Frederick,17th President of Howard University, Dr. Nakeina E. Douglas-Glenn, director of the Wilder School Research Institute for Social Equity, the Honorable Roger L. Gregory, Judge, U.S. Court of Appeals for the Fourth Circuit and the Honorable Jason Miyares, Attorney General of the Commonwealth of Virginia. The event was moderated by Bob Holsworth, political analyst and managing partner of the consulting firm DecideSmart.
VIDEO: Watch the complete 2023 Wilder Symposium on YouTube
Douglas Wilder, 66th Governor of Virginia and host of the symposium set the tone for the importance of closing the funding gap so that all people have access to equal and affordable education. In 2022, he challenged the Virginia General Assembly's decision that the state's constitution did not allow for state funding of Virginia's private HBCUs. This advocacy led to a legal opinion by Virginia's Attorney General Jason Miyares, which declared that "the Constitution and Virginia code does provide several exceptions that permit the General Assembly to provide funding to the private HBCUs in several ways through the Tuition Assistance Grant (TAG) program for individual students, procured public contracts for the university, and Virginia College Building Authority loans for the university."
Attorney General Miyares reiterated to the audience that Virginia has a long way to go to make up for decades of inequities and improper funding imbalances. He added, "I'm also proud of our work in this last state budget, where significant increases were made in funding our HBCUs. We recognize the unique opportunity HBCUs drive in providing opportunity for Virginians."
Disparities in HBCU funding are a national concern. Dr. Nakeina E. Douglas-Glenn, Director of the Wilder School Research Institute for Social Equity, provided a history of HBCUs beginning with the Morrill Acts of 1862 and 1890, which led to the opening of land-grant colleges for people previously excluded from higher education. The funding offered by the states was disproportionately lower than what was granted to historically white institutions. Federal funding was provided in the Higher Education Act of 1965 to strengthen HBCUs and address disparities in opportunities and resources. Today, the land-grant colleges, including Virginia State University, are still owed funding provided by the Morrill Act of 1890. The US Secretaries of Education and Agriculture estimate that debt is more than $13 billion.
Dr. Wayne A.I. Frederick, President Emeritus of Howard University, says Howard University will become the first HBCU to reach an $8 billion endowment in 2024. That is compared to Harvard University's $50 billion endowment.
"If Harvard University were to use its spending rule of 5% and put $2.5 billion into its operating budget every year as it does, it can actually take that $2.5 billion and cover Howard University's entire annual budget for two years at roughly $1.2 billion per year."
Despite the significant underfunding, HBCUs play a substantial role in helping students overcome obstacles to success. They have a history of providing access to low-income first-generation students and are among the top producers of black Baccalaureates and PhDs. The honorable Judge Roger Gregory, the first black judge to serve on the Fourth Circuit Court of Appeals, is a graduate of Virginia State University. He shared his experience and attributed his success to the lessons learned while a student at the HBCU. Gregory said the time is now to correct the inequities of the past.
"The misinterpretation of the 1862 and 1890 Morrill Acts created funding disparities to institutions serving people of color for 90 years. The idea is not to reduce funding and appropriation from other schools, but to provide the fair share granted by law."
The Wilder Symposium is a signature event of the L. Douglas Wilder School of Government and Public Affairs at Virginia Commonwealth University. The annual forum is hosted by the school's namesake, Governor L. Douglas Wilder. The event highlights everything from local policies to state and national politics and has become a vibrant platform for activism, discovery, and critical discussion in the Commonwealth.