Wilder School Spotlight
Meet Mo Alie-Cox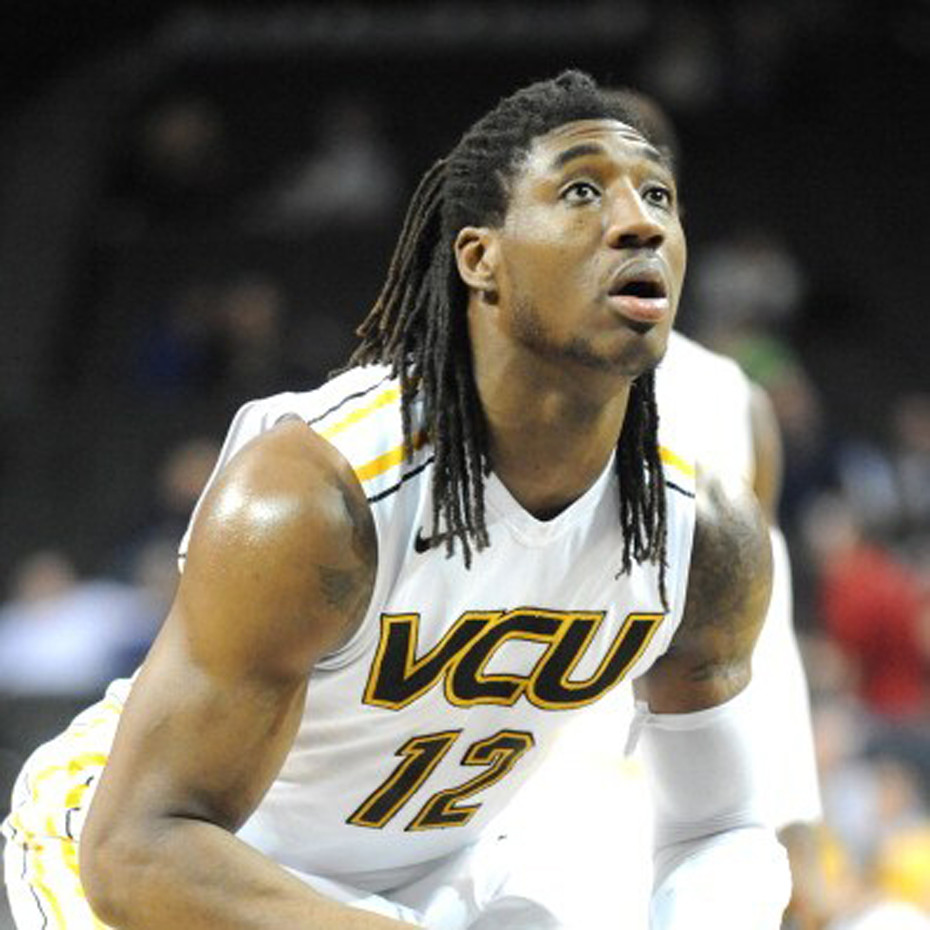 By Tiffany Murray-Robertson
It would be impressive for any college student to earn his undergraduate degree in just three years. But for Mo Alie-Cox, a Division I athlete whose sheer athleticism and leaping ability has prompted comparisons to the likes of Charles Barkley and DeJuan Blair, graduating in three years is downright masterful.
Alie-Cox averaged 7.4 points and 5.7 rebounds in the 2014-15 season. He also supported the VCU Rams in the glare of the spotlight, scoring 18 points and eight rebounds in the team's March contest against Davidson and seven points and seven rebounds in an NCAA tournament loss to Ohio State.
"Getting my master's is about preparing for life after basketball. No matter how much I love the game, I know my career as an athlete has an expiration date. Having two degrees is about having the opportunity to move forward"

– Mo Alie-Cox
Alie-Cox has played a prominent role on the team for the past two years, as a member of the starting lineup between the 2014-2016 seasons, playing on teams that have won 57 games and been to two consecutive NCAA tournaments.
But for those who know him best, Alie-Cox's greatest feats have occurred off the hardwood. Last May, the Alexandria native graduated a year early with a bachelor's degree in criminal justice.
Alie-Cox, who still has one year of eligibility remaining, returned for the 2015-2016 season as the Ram's starting forward. And because he's so fond of challenges, he's taken on a new position as a graduate student in the VCU Wilder School's Master of Criminal Justice Program.
"Getting my master's is about preparing for life after basketball. No matter how much I love the game, I know my career as an athlete has an expiration date. Having two degrees is about having the opportunity to move forward," said Alie-Cox.
Alie-Cox's gentle demeanor and good old fashioned pragmatism are a breath of fresh air. In an era in which it has become commonplace for collegiate athletes to leave basketball after a year or two–long before their degree requirements are fulfilled–Alie-Cox is earning not one but two degrees on a full scholarship.
It is also a remarkable comeback for a VCU student-athlete whose career was marked by a false start.
During his freshman year, Alie-Cox was ruled a partial qualifier by the NCAA and was forced to sit out the 2012-2013 season. The ruling meant that Alie-Cox wasn't permitted to travel or play with the team. He wasn't even permitted to attend their practices.
The sanction could have proved devastating. Instead, Alie-Cox did off the court what he does so well on it: he re-bounded decisively and relentlessly.
"While I was definitely sad," said Alie-Cox, "I tried to use that opportunity to grow and to control what I could control–my performance in the classroom."
Alie-Cox availed himself of every academic support. Whenever his teammates were busy practicing on the court, Alie-Cox was busy in the Siegel Center's Advising Wing.
And he didn't just show up to class, he flourished. During his 2012-2013 redshirt season, Alie-Cox earned straight As and was nominated by the Criminal Justice Program for "A Black History in the Making Award." He said it was the first time in his life that he had earned a 4.0 and a particularly proud moment for his mom, Saudatu, an emigre from Sierra Leone who supported her own journey through nursing school while working full-time.
When he wasn't in class or studying, Alie-Cox said he trained as much as possible. By the end of his season of solitude, he had trimmed three minutes of his mile run and could squat nearly 500 pounds.
"That experience taught me a lot. One, I learned not to take anything for granted. Two, I learned that you don't have to be brilliant; you just have to work hard and manage your time wisely. Three, I gained a wider perspective on VCU and made friends that I might never have made without time away from basketball."
All of that, said Alie-Cox, prepared him for the 2013-2014 seasons and beyond, when as a fully reinstated member of the team, he would be provided with significantly less time to attend to his studies.
"There are lot of hurdles that stand between a D-1 athlete and a degree. There's practice time. Time spent in the weight room. Time spent in meetings and studying film. Most of all, there's the travel that takes the athlete out of the classroom."
"Still…none of that is an excuse for failure. At VCU, we have an excellent support system in our coaches, academic advisors and tutors. The most important thing that I think student athletes have to have is the mental toughness to sacrifice and do their work, especially when the body is screaming 'sleep!'"
These days, Alie-Cox is enjoying the life of a successful student-athlete from the perspective of a first year graduate student.
He said he's routinely inspired by his engagement with faculty mentors such as Robyn McDougle, Shana Mell and David Pritchard. While he hopes to play basketball professionally after graduation, Alie-Cox says he's just as ready for the 'real world' and is currently considering a career in either law or the secret service. Just last month, he completed an internship at McGuire Woods Consulting which advises business and governmental entities on a range of strategic and policy issues.
If his college career is any illustration, Alie-Cox has a bright future ahead.