News
Wilder School Formally Dedicates New Raleigh Building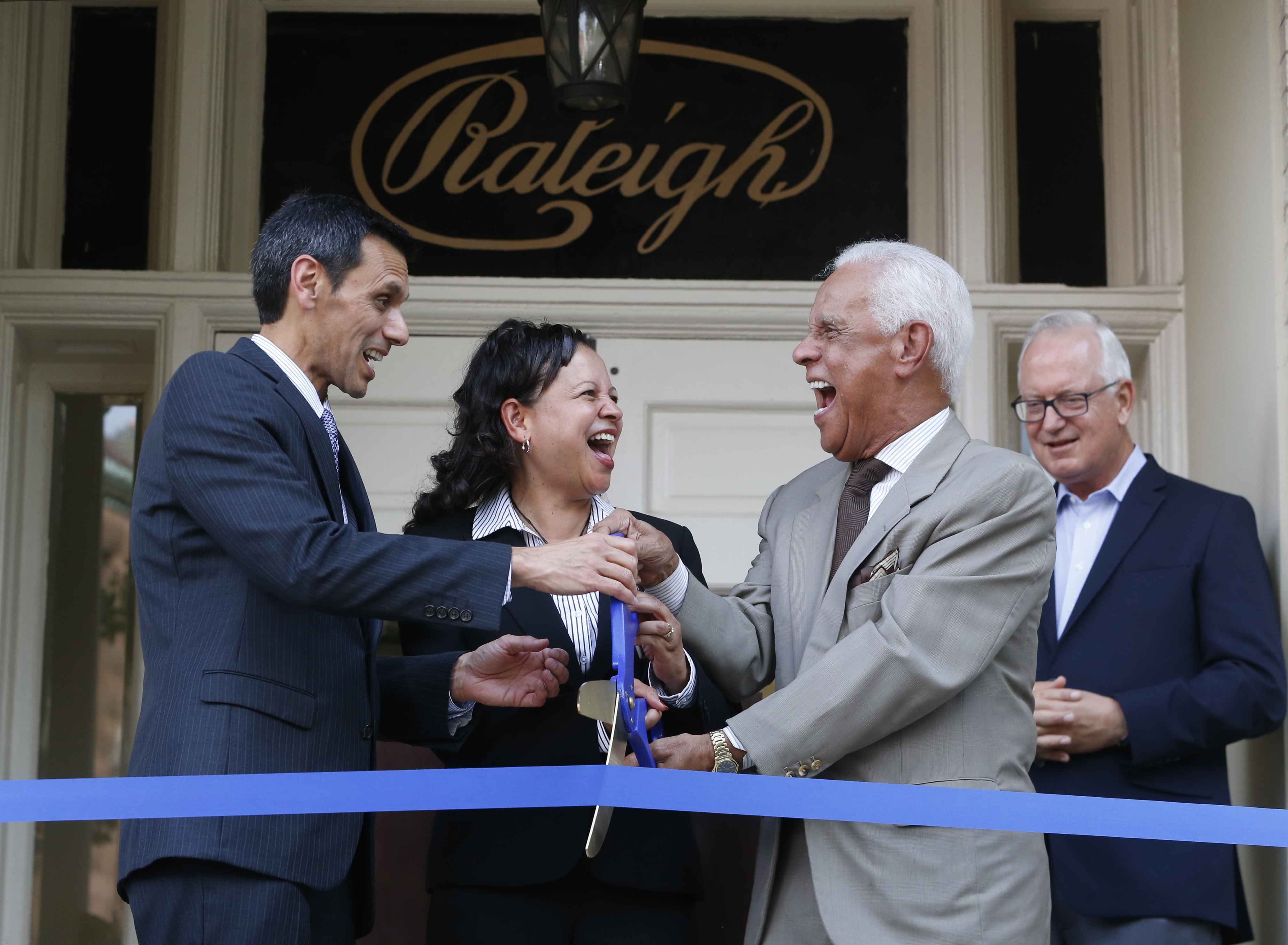 September 7, 2018
The Wilder School officially dedicated the renovated Raleigh Building on August 30, celebrating our newest property with a ribbon-cutting ceremony.
Interim Dean Susan Gooden, Ph.D., was joined by Governor L. Douglas Wilder, VCU President Michael Rao, Ph.D., and Robert Holsworth, Ph.D., member of VCU's Board of Visitors, to formally mark the new building by cutting a Wilder School-blue ribbon that hung between the front door's two columns with oversized scissors.
More than 100 members of the Wilder School community – including university leaders, friends, alumni, faculty, staff and students – turned out for the ceremony. The Raleigh Building houses the Wilder School's Criminal Justice, Urban and Regional Studies and Planning, and doctoral programs; student services; and classrooms.
"This is an exciting day at the Wilder School," Gooden said. "So many people worked very hard to make this happen, and this is another way of how the Wilder School is expanding its footprint."
Governor Wilder told the gathering that he remembered the building from when he was a young man, "because I used to walk by here a lot." The two globes on either side of the front staircase denoted it was a pharmacy, which meant inside were ice cream, cold ice and a place to get a sandwich or milkshake.
"I sometimes would stop and go in. You could always go in and get yourself a nice drink. But you couldn't drink it inside, you couldn't eat inside, but you were welcome to come inside. So we are all inside today."
Our responsibility as a school, he said, "is to continue to ignite the flame that kindles human progress, and to have our students demand what is right and criticize what is wrong."
Built in 1907 as a luxury apartment building, Raleigh is considered an excellent example of Second Renaissance architecture. VCU, then RPI, bought the building in 1966 for office space and classrooms, and Raleigh housed the School of Social Work until 2013, at which time it was closed for extensive renovation.
Rao called Raleigh "a wonderful building" that has been brought back to glory.
"What the school represents, and what the building represents, is the continued opportunity to expand access to the school so that we can give people the chance to shape their communities much as Governor Wilder has through his great example," Rao said.