News
Susan Gooden Makes History at International Conference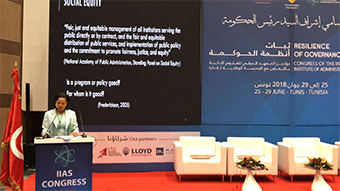 July 2, 2018
By Pamela Stallsmith
Wilder School Interim Dean Susan Gooden, Ph.D., became the first person from the United States and the fourth woman to deliver the Braibant Lecture at the 2018 Congress of the International Institute of Administrative Sciences (IIAS), held June 25-29 in Tunis, Tunisia.
The IIAS Congress is an international scientific event focusing on public administration, administrative sciences, public management, governance, public policy and practice. It seeks to promote the exchange of knowledge on the main trends regarding theory and practice of public administration in all regions of the world, and facilitates dialogue between academics and public officials. Participants came from more than 60 countries.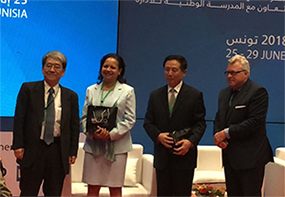 Gooden, a professor of public administration and policy and past president of the American Society for Public Administration, was asked to represent ASPA at the Congress and deliver the lecture. Her lecture, "Nervousness in Governance: A Focus on Social Equity," will subsequently be published by the IIAS.
"It was truly an honor to deliver this prestigious lecture and attend this global conference, which explored many of the issues that we at the Wilder School focus on every day," Gooden said. "Public administration and policy are important topics that need to be addressed locally, regionally, nationally and globally."
Named for the late French civil servant and IIAS president and director general Guy Braibant, this annual lecture has been given since 2002.
"This year's IIAS Conference theme focused on resilience of governance systems across a spectrum of related issues," said William P. Shields Jr., executive director of ASPA. "Dr. Gooden's passion for public service as a bold and noble profession, particularly through the lens of social equity (one of our society's four core values), fits naturally into this theme. It was an honor for ASPA to be invited to provide the lecturer for IIAS and we could think of no better public service advocate to deliver it than Dr. Gooden."