News
Virginia Executive Institute Grows Leaders and Fosters Connections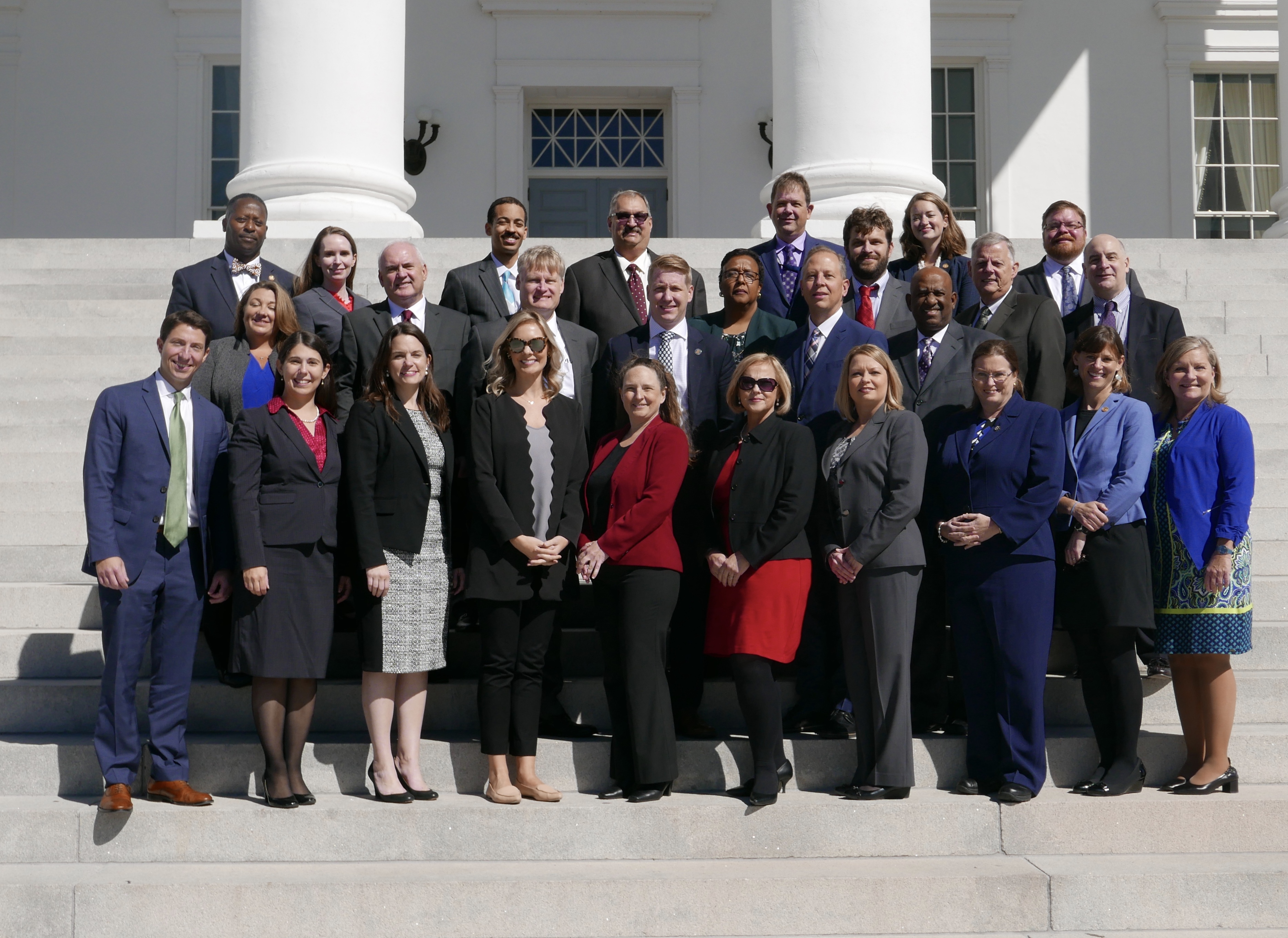 November 8, 2018
By Mandy Fowler
For more than two decades, the Performance Management Group within the Center for Public Policy at VCU's L. Douglas Wilder School of Government and Public Affairs has provided a dynamic forum for leaders of today and tomorrow to examine and enhance their abilities as thinkers, decision makers and leaders. The Virginia Executive Institute (VEI) provides two weeks filled with engaging sessions, assessments, speakers and networking opportunities.
VEI is the principal executive educational program for leaders in Virginia state and local government from across the commonwealth. With more than 1,400 graduates, VEI alumni include distinguished leaders including cabinet secretaries, agency heads, and other directors.
"It's a unique executive education program for state leaders and a transformative experience. The Virginia Executive Institute is not just about a participant's leadership development, but also about engaging with others in the program and networking," said James Burke, Ph.D., director of the Wilder School's Performance Management Group who leads VEI with Linda Pierce. "People form lasting relationships, both personal and professional. The program gives people the opportunity to reflect upon where they are in their leadership effectiveness and where they want to be."
Participants are encouraged to reflect upon their current strengths and develop aspiration goals and strategies for growing their leadership abilities.
"At VEI we provide a variety of assessments, activities, and speakers who share their journeys so that participants learn in multiple ways and about a variety of leadership styles," Pierce said. "This varied learning environment creates thought-provoking opportunities and engagement. There is a wealth of knowledge at VEI not only from the speakers but from the participants with their extensive knowledge and experience in state and local government."
A Robust Program
VEI enrolls a maximum of 36 participants in their spring and fall courses held in Virginia Beach, Charlottesville and Richmond. Notable guest speakers join the group throughout the week bringing leadership realities and insight. Burke and Pierce lead the class in conversations on servant leadership, emotional intelligence, ethical decision making, coaching and include a stimulating reading list.
Participants dive deep into their leadership styles with a 360o Feedback and the Myers-Briggs Type Indicator. A "leadership challenge" encompasses and culminates the week where participates are grouped and research a chosen relevant topic. The groups present to a panel of leaders at graduation held at the State Capitol.
The Fall 2018 graduating class's "leadership challenges" explored automation/artificial intelligence, options for addressing revenue shortfalls from hybrid and electric vehicles, workforce development alternatives to incarceration, prioritizing early childhood education in opioid impacted families, and the lure of e-cigarettes and the impact on the health of Virginia's youth. Each group was engaged with a host of questions and additional ideas to complement the conversations from the leaders in state government in attendance.
Greg Bell, interim chief information officer and chief information security officer at the state Department of Behavioral Health and Developmental Services, described VEI as "an intense two-week 'boot camp' of preparing leaders to embrace Virginia values and competencies through a unique setting and learning style."
During the first week in Virginia Beach, he said he found himself reflecting upon himself and his journey while during the second week in Charlottesville he turned the focus to what type of leader he wanted to be. While he learned many things through the program, two in particular stand out.
"I learned not just facts and history of great leaders, but the untold story behind how the leader struggled with their decisions. VEI personalized the leader to a level I had never contemplated, helping me to realize it is OK to make mistakes, and to learn from the mistakes and move forward," he said.
The networking opportunities were also outstanding, and Bell said he walked away with lifelong friends.
"The program cultivates and nourishes friendship. This led me to a personal epiphany; friendship is a flower," he said. "Each friend and relationship I have made will grow into a beautiful flower given the proper cultivation and nourishment. I hope, many years from now, I have a wonderful garden of flowers."
Governor Ralph S. Northam stated, "The Virginia Executive Institute continues to develop exceptional state leaders dedicated to serving the Commonwealth and I want to offer my congratulations to the Fall 2018 graduates who are now a part of that tradition. We value the partnership with the Performance Management Group at VCU's L. Douglas Wilder School of Government and Public Affairs and its commitment to Virginia's state workforce."
We are pleased to announce the graduates of the Fall 2018 Virginia Executive Institute:
Kimberly S. Adams, Virginia Resources Authority
Briant Atkins, Department of Fire Programs
Michael S. Bednarski, Department of Game and Inland Fisheries
Gregory J. Bell, Behavioral Health and Developmental Services
Ellen E. Bolen, Virginia Marine Resources Commission
Katharine Bond, Dominion Energy
Shari Carlson, Department of Social Services
Tama S. Celi, Department of Corrections
William R. Childress, Motor Vehicle Dealer Board
Dennis W. Cyphers, Virginia Correctional Enterprises
Jay C. Grant, Department of Housing and Community Development
Frank G. Guinan, Department of Medical Assistance Services
Penny C. Hall, Department of Social Services
Charles W. Hartgrove, Department of Taxation
David C. Henderson, Virginia Housing Development Authority
Ashley M. Hood, Virginia Commonwealth University
Stephanie Jones, Virginia Resources Authority
Roger W. Kirchen, Department of Historic Resources
John R. Less, Virginia Commonwealth University
Dena R. Potter, Department of General Services
Cassidy J. Rasnick, Office of the Governor
James A. Rosatelli, Senate Finance Committee
Michelle B. Schmitz, Department of Health Professions
Mira E. Signer, Behavioral Health & Developmental Services
Keven Wright, Department of Taxation
Additional Professional Development at Performance Management Group
VEI is among several professional development programs offered by the Performance Management Group at the Wilder School:
The Commonwealth Management Institute is a five-day program that focuses on professional development for experienced managers in state government. The institute promotes the exchange of information, the development of creative ideas, and cooperation and future collaboration among program participants.
The Experienced Supervisor's Institute is a three-day program for forward-thinking supervisors, managers and project leaders. This class helps build the necessary competencies that will move you beyond the role of a managing supervisor to becoming an influential leader. This workshop focuses on advanced supervision tools/tips and an introspective look at what it takes for you and your team to succeed in good and challenging climates.
Fundamentals for Supervisors is a three-day program that provides essential skills required by those new to supervising the work of others, leading project teams or who have not received prior supervisory training. The goal of this class is to increase an individual's performance as a supervisor and to provide practical tools to enhance staff performance.
LEARN MORE
For more information about these programs, contact:
James Burke, Ph.D., (804) 828-1191 or jmburke@vcu.edu
Linda Pierce, (804) 827-0482 or llpierce@vcu.edu