News
A Leader among leaders: Remembering Chong Mo Pak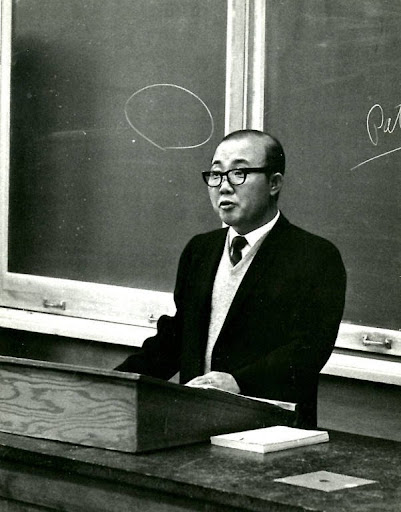 By David Slipher
Chong Mo Pak, a former VCU professor, helped transform public service leadership education in Virginia
Few individuals have the chance to make an impact in the lives of so many leaders. Chong Mo Pak, a scholar of public affairs and administration and executive management leader, devoted decades of his life toward mentoring others and advancing understanding and best practices in public service.
Born in Pyongyang, North Korea, Pak emigrated with his parents during the early days of the Korean War. He eventually came to the United States in 1949 to study political science, eventually receiving a Ph.D. in Public Administration from the University of Southern California. His doctoral thesis was entitled, The Dynamics of Government Reorganization. In 1955, he married Roomy Lee, an award-winning watercolor and calligraphy artist.
Impassioned with educating others, Pak taught at the University of Southern California as an instructor, at Virginia Commonwealth University, where he served as program chair and professor of the Department of Public Administration, and at the University of Virginia as a professor of leadership and organizational development.
In 1981, Pak became the founding director of the Virginia Executive Institute (VEI), which he continued to operate after leaving VCU to become director of the Virginia Department of Personnel and Training (now the Department of Human Resources Management). Pak used his skills for collaboration and relationship building to grow the Virginia Executive Institute into a powerhouse leadership program for public servants at all levels of government across Virginia. In 1985, Pak was named a Fellow of the National Academy of Public Administration, the preeminent, congressionally-chartered authority providing expert advice to government leaders in building and managing organizations.
Pak encouraged humility and understanding in his students, and exemplified these abilities himself as a public servant. "Keep an eye on your ego," said Pak. "Few things are a greater handicap in dealing with people than an exaggerated idea of your own ability and importance."
As an academic researcher, Pak was especially interested in organization and reorganization across all levels of government and was a proponent of incorporating modernization practices to improve government efficiency. As an instructor, he was a strong believer in continuing professional development and built the Virginia Executive Institute curriculum for participants to discuss and propose solutions to the most pressing challenges and topics in governmental administration. After his retirement, Pak continued to remain in contact with many program graduates, many of whom today hold top leadership positions across Virginia and beyond.
Pak, who passed away in 2021, continues to live on in the memories of those whose lives he touched. Below are some reflections from those who were fortunate to know him and the difference he made as an educator and mentor.
Reflections on Chong Mo Pak
Pak, pictured at front right, with the Virginia Executive Institute Spring Class of 1985.
"Dr. Pak was an amazing man. I learned a great deal from him in VEI and when he did consulting for us in the Governor's Office."
-Ben Dendy, president, Vectre Corporation, member, VCU Board of Visitors
"Dr. Pak was my mentor and friend, inspiring me to excel and pursue a longstanding career in local government management. He was truly a positive influence to many public administration students and careers throughout Virginia and beyond."
-Claire Collins, independent consultant, former county administrator, '84 MPA graduate
"Over the years, I have heard many alumni from that era speak very highly of Dr. Pak and I'm not surprised that they might want to honor him. Chong was also widely praised by state government and federal government leaders for his professional development skills exemplified by his work with the Virginia Executive Institute and the Federal Executive Institute that was housed in Charlottesville at UVA."
-Robert "Bob" Holsworth, political scientist and former dean of the Wilder School
"I had the pleasure of serving under Dr. Pak's leadership when I worked at the Department of Personnel and Training. A wonderful man and great leader."
-Rena Hussey, retired human resources professional, Commonwealth of Virginia
"I was fortunate enough to encounter Dr. Pak when he served as the founding Director of the Virginia Executive Institute (VEI). I was at the start of my career and one of the younger participants admitted to this prestigious program. I still believe that my participation in the VEI class of 1985 had more to do with my success in my state career than any other single event. During the program each participant was tasked with identifying a quote that epitomized what we learned from VEI. My quote was "Be a Harold Hopkins!"
Dr Pak was born in North Korea in 1928. His family escaped North Korea during the early days of the Korean War. He admittedly was a troubled and angry individual until he encountered a college counselor named Harold Hopkins. Harold sat Chong down and worked with him to contain his anger and give him purpose.
Harold Hopkins taught Chong to look below the surface of an individual's actions and seek the real being of the individual. There is, in everyone, much more going on in their life than we see on the surface. Take time, Chong would say, to really understand each person you encounter.
I have tried in life to be a Harold Hopkins and have never forgotten the valuable lessons Chong Pak brought to my life. Well done, Chong, you were a good and faithful servant."
-Willam "Bill" Leighty, senior strategic advisor at the Wilder School
"The VEI program under his guidance helped bring the many functions of Commonwealth government into greater harmony."
-Edward Mazur, retired comptroller of Virginia
"As a child in vacation Bible school, I learned a song that says 'it only takes a spark to get a fire going and soon all those around can warm up in its glowing.' In education and public service, Chong Mo Pak was that spark for me and many others. Refusing to accept mediocrity in government, Dr. Pak instilled in students and government officials a passion for excellence."
-Joan Ziglar, '86 MPA graduate
If you have a memory of Chong Pak that you'd like to share, please send an email to wilderschool@vcu.edu.