Faculty News
Albanese, Gooden to Receive University's Top Honor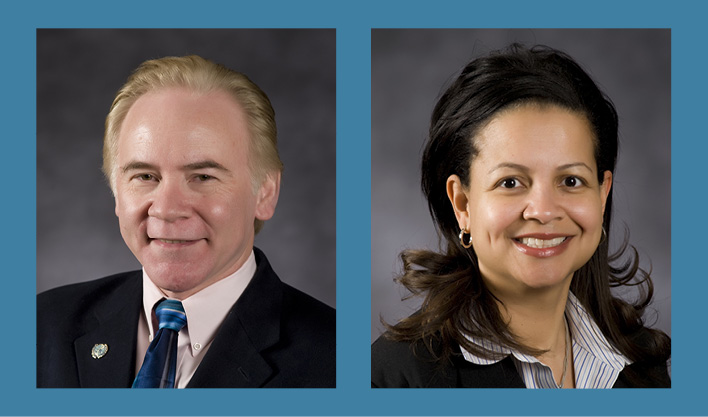 Two Wilder School professors—Jay Albanese, Ph.D., and Susan Gooden, Ph.D.,—have been selected as recipients of the 2016 Distinguished Faculty Awards, the campus' most prestigious honor for teaching faculty.
The awards recognize individuals who have distinguished themselves and the university through their commitment to excellence, service, teaching and scholarship.
Jay Albanese, a prolific author and former chief of the international division of the National Institute of Justice, will receive the Distinguished Teaching Award.
Albanese joined VCU in 1996 and currently serves as chair and professor of criminal justice at the Wilder School. His nomination cited nearly two decades of service in the classroom and a style of teaching that incites intellectual curiosity in students, engages students thoroughly in the learning enterprise and provides lifelong impact.
Susan Gooden, a professor of public administration and policy, will receive the Distinguished Service Award. Her nomination referenced extensive meritorious service through unique contributions, activities and leadership that have provided long-standing impact on VCU and beyond.
Gooden, who joined VCU in 2004, is the former executive director of the Grace E. Harris Leadership Institute and the current president of the American Society of Public Administration (ASPA). ASPA is the largest and most prominent professional association for public administration with more than 8,000 members. She is also a faculty affiliate at Duke University's Research Network on Racial and Ethnic Inequality and a fellow of the National Academy of Public Administration.
Albanese and Gooden are among seven faculty members who will be honored during the 34th Annual Opening Faculty Address and Convocation, which will take place at 11 a.m. on Tues., Aug. 23, at the W.E. Singleton Center for the Performing Arts, 922 Park Ave. VCU President Michael Rao, Ph.D., and Gail Hackett, Ph.D., provost and vice president for academic affairs, will preside over the ceremony. A reception will follow.