News
Wilder School Students Help Restore the Past, Plan for Future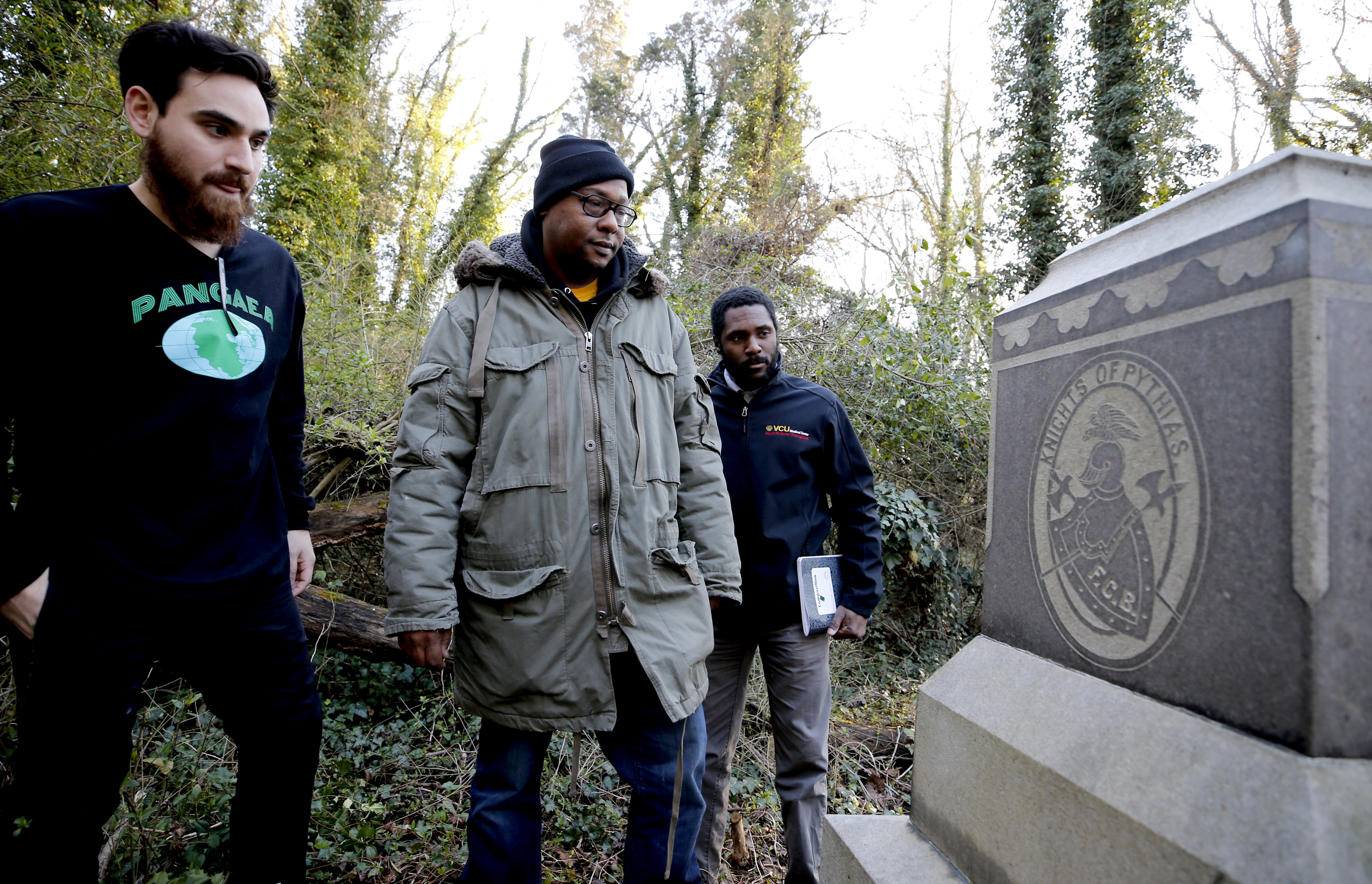 By Pamela Stallsmith
A monstrous tangle of ivy and kudzu vines clog many pathways and bury much of Historic Evergreen Cemetery under a blanket of neglect. Some tombstones are so worn their names are illegible. Others lay crumbled, shrouded by a towering canopy of trees.
But the Wilder School Urban and Regional Studies students and their professor see beyond the overgrowth of the African-American cemetery in Richmond's East End. They're helping to create a plan that respects the sanctity of the space while making it accessible to families as well as the public, envisioning a long-range approach for restoration.
This semester, the senior capstone class taught by Kathryn Howell, Ph.D., assistant professor in the Wilder School's Urban and Regional Planning and Studies program, is taking a hands-on approach to a real-world problem.
Howell's class is working with the Wilder School's Center for Urban and Regional Analysis, which has a contract with the cemetery's new owners, the nonprofit Enrichmond Foundation, to develop a master plan. Students will provide background information about community engagement and future uses, and this marks the first time CURA has worked with an undergraduate class on such a plan.
"This is an exciting opportunity for students to work on an actual project and have some bearing on what happens," Howell said. "It also allows them to partner with one of the Wilder School's centers in a master planning process. The project is helping students to understand that planning is an interdisciplinary skill—it involves history, transportation, public use, economic development, environmental management."
As students assume the role of planners in this endeavor, Howell said, "There are so many questions to be answered—who's in the cemetery? Why is it like this? What were the geographical, social and historical forces at work? How did it get this way? And what can be done?"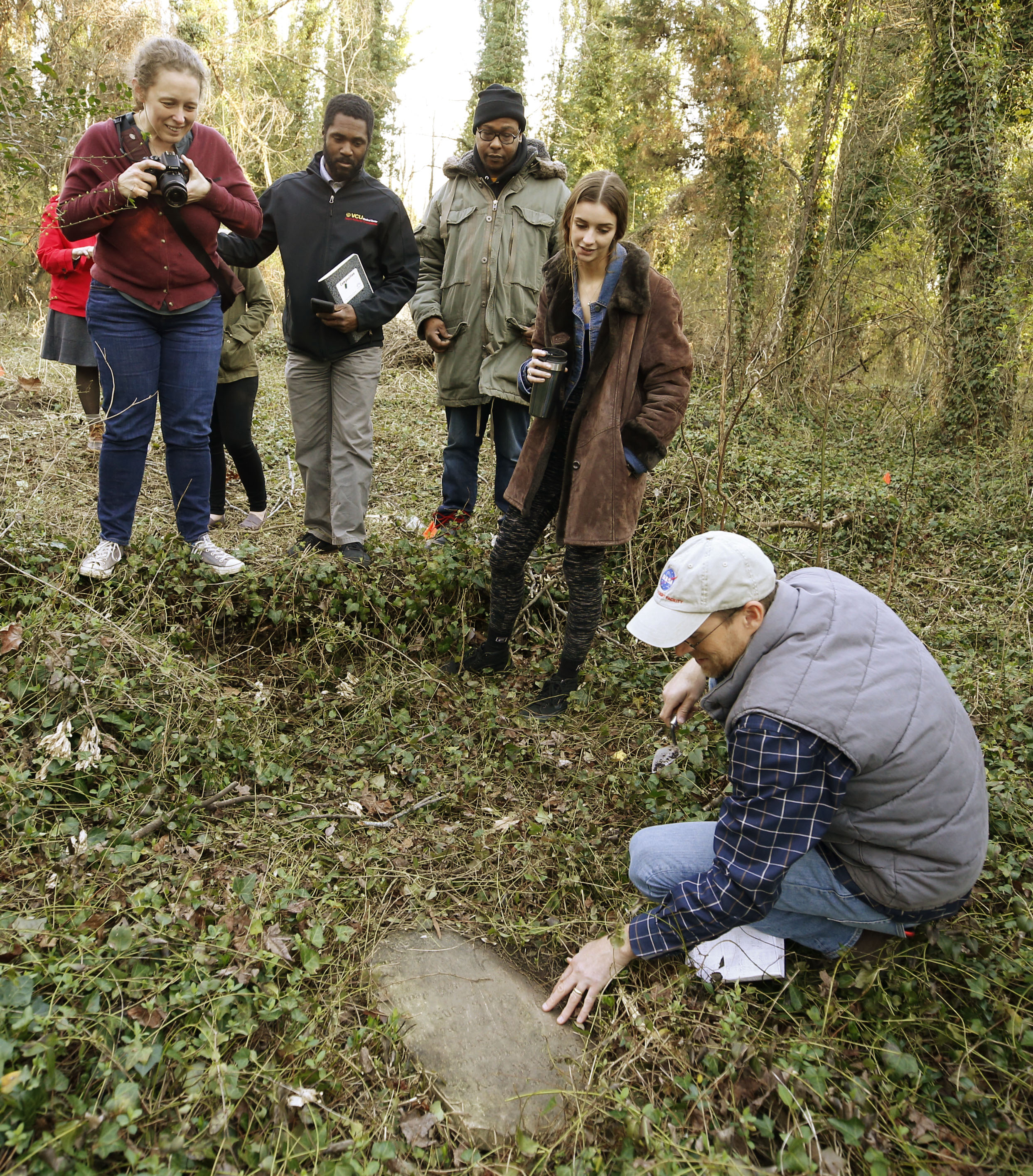 Decades of neglect
Evergreen was created in 1891 as a place of honor for the affluent African-American community as a counterpart to Hollywood Cemetery and neighboring Oakwood Cemetery, which allowed only whites to be buried there.
Some of Richmond's most prominent African-American leaders of the 19th and early 20th centuries were laid to rest in Evergreen, including Maggie L. Walker, the entrepreneur and first female bank president in the United States; John R. Mitchell Jr., editor of the Richmond Planet; and the Rev. J. Andrew Bowler, renowned educator and Baptist minister.
Unfortunately no funding for perpetual care was planned for the property, and Evergreen slid into neglect as ownership changed hands several times.
In May 2017, Enrichmond Foundation acquired the cemetery and, in partnership with the Virginia Outdoors Foundation, will place it under a conservation easement to protect it from future development. Since assuming control, the foundation has enlisted volunteer, professional and nonprofit assistance to make Evergreen accessible and clear away decades of debris.
Wilder School students welcome the challenge.
"It's pretty special to be a part of this project and help the revitalization of Richmond," said Gian Mobarak, a senior. "Historically the black culture was put into the shade, and we're bringing light to it."
The history of Evergreen reflects the city's complicated racial history and scars of segregation.
For instance, for decades the state paid to maintain Confederate graves in Oakwood but put no money toward Evergreen or the adjoining East End cemetery. However, under legislation approved last year in the General Assembly, black cemeteries established before Jan. 1, 1900, became eligible for the same maintenance monies provided by the state to Confederate gravesites. That totals about $35,000 a year to the two historic African-American cemeteries.
The earliest graves are now being rediscovered, said Ted Maris-Wolf, Evergreen Cemetery caretaker. The cemetery covers 60 acres on the Richmond-Henrico line and contains an estimated 20,000 plots, many of which are overgrown. The last burial took place in 2016.
During a recent tour with the Wilder School class, Maris-Wolf guided the group through brush and down a hill to what used to be the cemetery's entrance, its roughly 35-foot wide road long since obscured by dirt and decayed leaves. Cedar trees—the symbol of longevity—reveal the entry way's one-time path.
"We're still defining the parameters of where the graves are," Maris-Wolf said. Through archival research, oral history and examining aged ledgers at the Library of Virginia, "We're looking at a number of ways to understand the relationship between the people in the community and those who are buried here."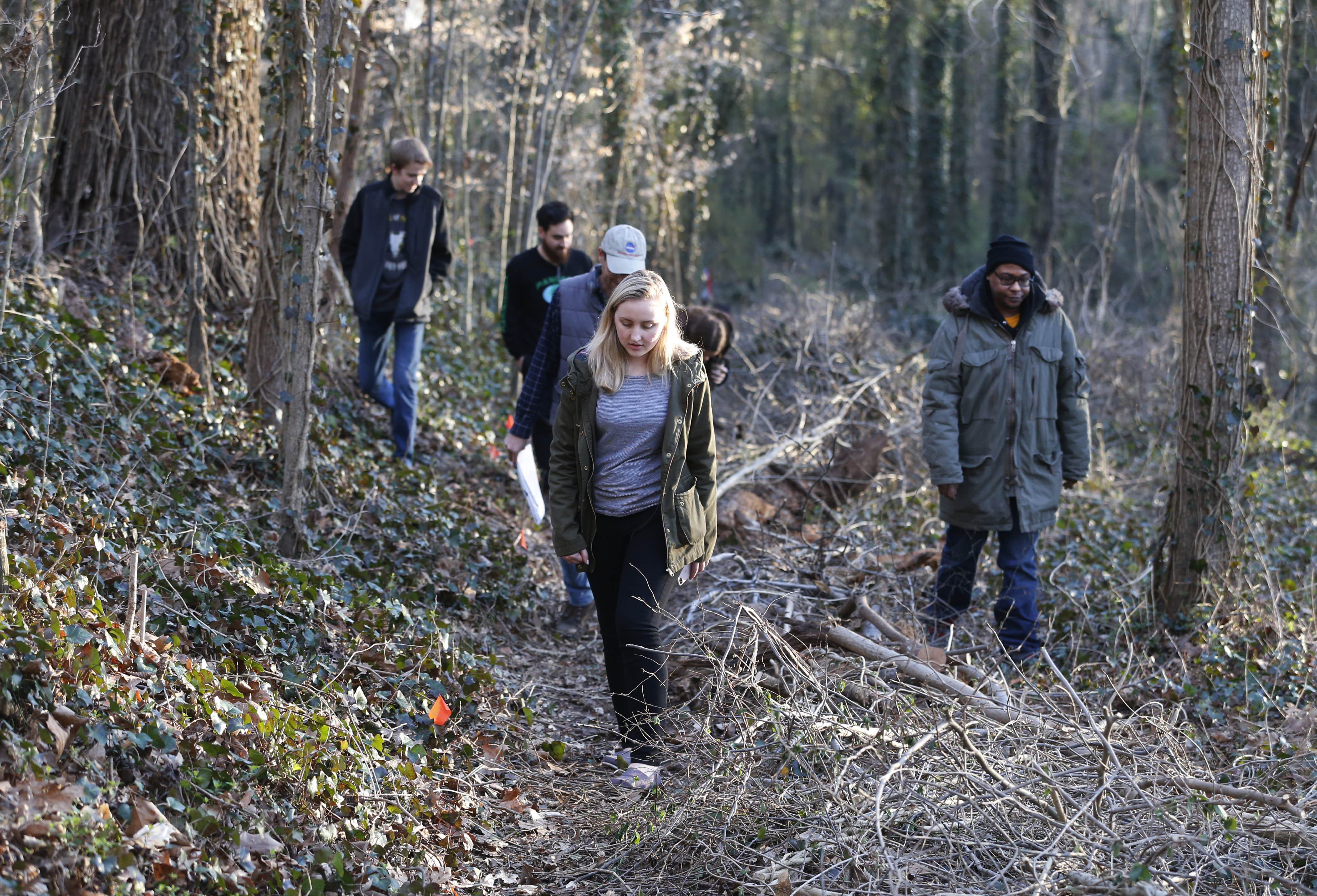 "A project that means something"
The Wilder School students broke into five groups to study and make recommendations for a specific area: accessibility and taking care of the space; improving the visitor experience; connecting to the community; interpreting the cemetery; and recreation in terms of striking the balance between respecting the public space and encouraging visitors to enjoy it.
"I've never had a class like this before," said Johnathan Bennett, a senior. "It's a project that actually means something."
Evergreen's location is challenging, making quietude elusive. Surrounding the site are the Richmond city dump, a loud concrete recycling plant and the steady roar of vehicles along East Richmond Road. One of the class's projects is to consider ways to mitigate that noise.
Another group is looking into proper signage that explains the history as well as provides directions to key areas, such as famous gravesites. Transforming the space into a memorial park where people come to walk, pay their respects and learn about a key segment of local history lie at the heart of the project.
"I feel like we're helping to restore a place to its proper place in history," said senior Olivia Ratay.
Over the past year volunteers have made a dent in removing brush, rediscovering plots, clearing trails and even creating a new parking area near the cemetery's historic section, though much work remains.
"Stories are very important, and Evergreen tells a specific story about Richmond's history," said David Ramirez, a senior. "It's not just people buried there but families."
Vine by vine, plot by plot, the full story of the cemetery is being rediscovered. It's a place not to mourn but to praise life. A few Civil War and Spanish-American War veterans are interred there, and recently local veterans have been placing American flags on the graves of fellow soldiers.
"We're getting out into the community and putting our hands in the dirt," said Vegas Krane, a senior. "We're seeing the scope of the problem of how do we connect this beautiful place to people and the community around it."