News
Dean Gooden to Receive Prized Public Administration Award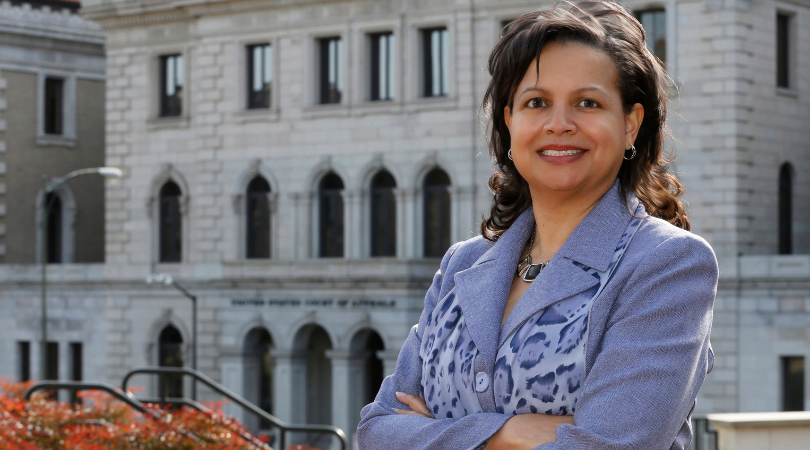 March 16, 2021
By Tiffany Murray-Robertson
The university community congratulates Wilder School Dean and Professor Susan Gooden, Ph.D., the 2021 recipient of the Charles H. Levine Memorial Award for Excellence in Public Administration.
Presented jointly by the American Society for Public Administration (ASPA) and the Network of Schools of Public Policy, Affairs, and Administration (NASPAA), the Charles H. Levine Award is an accolade that recognizes a public administration scholar who has made indelible achievements in teaching, research and service. Highly competitive, selection for the Levine Award is rare: Dr. Gooden is the first person to receive the award since 2015, and the first African-American to be presented with the prize in its 31-year history.
In addition to serving as dean and professor of public administration at the L. Douglas Wilder School of Government and Public Affairs at Virginia Commonwealth University, Dr. Gooden is the founder of the Research Institute for Social Equity, an organization that shapes public decision-making around social and racial equity by providing government, nonprofits, and public and private organizations evidence-based research, training, tools and resources. Dr. Gooden is also the incoming president of NASPAA, a past president of ASPA and the former chair of the Virginia Community College System. Most recently, she was appointed by Gov. Ralph Northam to the Board of the Virginia Retirement System.
"We, at the Wilder School, are proud of the leadership exemplified by Dean Susan Gooden. Her relentless pursuit of educating and addressing racism in America is unparalleled," said L. Douglas Wilder, 66th Governor of Virginia and a Distinguished Professor at the school that bears his name.
"Dean Gooden's RISE initiative is highly valued and proven to be of continuing need in a society plagued with injustices. Among the many things for which she is recognized, the institute portends to be a furtherance of the recognition she so richly deserves. We extend heartfelt thanks and congratulations to her for this exemplary award."
An internationally renowned scholar in the area of social equity, Dr. Gooden is the author of four books, numerous chapters, refereed journal articles and peer-reviewed publications. Her 2014 publication, "Race and Social Equity: A Nervous Area of Government," received the 2020 Herbert Simon Book Award presented by the American Political Science Association and has been hailed as a seminal contribution to the field of public administration.
Among Gooden's career achievements include: election as a Fellow in the National Academy of Public Administration, a Fulbright Specialist Award to Zayed University, Abu Dhabi, United Arab Emirates; a Best Academic Paper Award presented by the Northeast Conference on Public Administration; the Jewel Prestage Pioneer Award presented by the Conference of Minority Public Administrators; and the Joan Fiss Bishop Leadership Award presented by the ASPA's Section on Women in Public Administration.
Perhaps as important as her scholarship, Dr. Gooden has influenced countless members of the discipline through her leadership in professional associations and her mentorship of students while maintaining a highly productive research agenda. Her latest work published in February, is an issue of the Russell Sage Foundation Journal of Social Sciences co-edited with scholars Samuel L. Myers, Ph.D. and john a. powell. "The Legacy of 'Separate but Equal': Policy Implications for the 21st Century," is a collection of essays that considers the connection between state-sanctioned segregation, white supremacy and the persistence of racial inequality.
The 2021 Charles H. Levine Memorial Award for Excellence in Public Administration will be presented virtually during ASPA's Annual Conference which will be held April 9-15.