News
Wilder School Hosts Dynamic Cohort for First-ever PPIA Public Service Weekend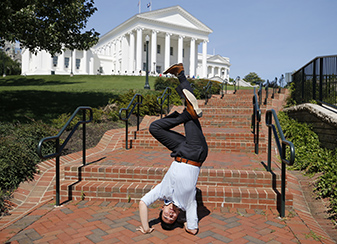 By Tiffany Murray-Robertson
Yomna Nassar is a junior at the University of Maryland where she has spent the past three years developing a drug delivery mechanism that maximizes cell repression in cancer patients.
Katriel Marks, grew up on a farm in Carmel, IN, where her passion for creating transdisciplinary solutions for advancements in food security first emerged. Now a senior at Purdue University, her research on the genetic enrichment of rice and soybean crops is already being used by farmers in El Salvador, Malawi and China.
Victor Yau is a Rangel Congressional Fellow and a second-year master's student at Princeton University. Before switching gears to Foreign Service, Yau led a 7-year career as a professional, competitive break-dancer. His dream is to someday build bridges between international communities through his first love—hip-hop art.
Prodigious talent aside, what do each of these talented twenty-somethings have in common?
Answer: They all want to change the world and recently visited Virginia Commonwealth University to learn how.
Nassar, Marks and Yau are just three of 24 exceptionally talented students who were selected to attend the first-ever Public Service Weekend hosted by VCU's L. Douglas Wilder School of Government and Public Affairs, June 14-16.
A partnership between the Public Policy & International Affairs Program and the Network of Schools of Public, Policy, Affairs and Administration (NASPAA), the program exposes students from underrepresented groups in public service leadership and education to the rewards of a career in the public sector.
In total, 24 students from 17 states and 21 universities attended the intensive, three-day conference which focused on the theme "Social Equity in Public Policy Analysis." Highlights of the conference included a keynote address by Virginia Governor L. Douglas Wilder, a tour of the Virginia capitol, and meetings with state and local policymakers. Students also attended technical and professional development workshops hosted by research faculty from the Wilder School's Center for Public Policy. Simone Gbolo, executive director of PPIA and David Marshall, membership director of NASPAA, were also ohand to greet participants. The weekend culminated with students presenting their own empirical analysis of regional disparities within the Richmond region in areas such as housing, economics, crime and transportation. View photos from the event.
Setting the stage for equity and diversity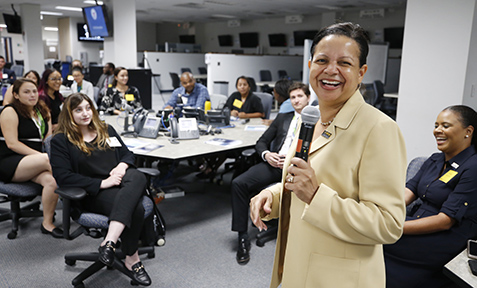 Selection as a host institution for the PPIA Public Service Weekend was part of a competitive bid process that places the Wilder School among the ranks of a short list of nationally renowned universities which have hosted the experience in the past.
Susan Gooden, Ph.D., interim dean and professor at the VCU Wilder School, said the impetus for the collaboration between the Wilder School and the PPIA Public Service Weekend was two-fold. That interest stemmed, in part, from the Wilder School's longstanding commitment to the promotion of social equity in governance and, second, from a desire to increase the ethnic and geographic diversity of candidates for the Wilder School's post baccalaureate programs.
"PPIA participants represent some of the best and brightest minds in our nation, so of course we hope that considering a graduate degree or doctoral program at the Wilder School is something that they consider. Ultimately, however, the goal of every Public Service Weekend host is similar: we want to be a part of inspiring a more diverse generation of public servants who can provide greater proportional representation for the increasingly diverse communities that they serve," Gooden said.
Another central goal of the weekend is to demystify the meaning of public policy, said Robyn McDougle, Ph.D. McDougle is the director of the Wilder School's Center for Public Policy, a multidisciplinary group of units offering a wide range of services to support public policy decision making, public sector training and leadership development. She was among a core group of faculty, administrators and research faculty who organized the school's successful bid. McDougle along with CPP colleagues, Nakeina Douglas Glenn, Ph.D., Fabrizio Fasulo, Ph.D., and Sarin Adhikari, Ph.D., were instrumental in the curriculum development for the weekend sessions and led multiple panels over the course of the experience.
"There's a general lack of awareness about what public policy really involves and the same is true of social equity," she said.
"Many people think of policy as being exclusively related to law or electoral politics. The reality is that policy is something that we come into contact with every day, either in the decisions that we make or the decisions that impact the various resources that may be available to us. The same is true of equity. Often when we hear this word, we tend to connect it with ideas around race, gender or other identity characteristics," said McDougle.
As a result, conference organizers designed a dynamic, hands-on agenda that featured real-world exposure to a multitude of public policy arenas—from public safety to emergency management congressional oversight. Additionally, participants were exposed to panels and discussions that challenged them to expand their understanding of social equity to include a structural and systemic examination of programs and policies that serve everyone regardless of identity.
Panelist perspectives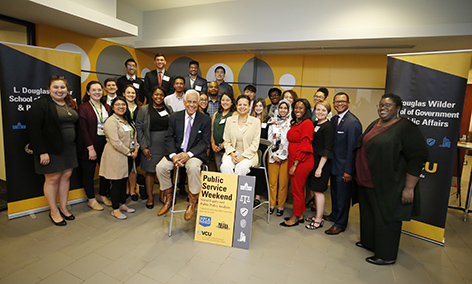 Over the course of the three day weekend students heard from various lawmakers, including one iconic figure, L. Douglas Wilder, 66th Governor of Virginia and the first African American to be elected governor in the United States. Wilder provided the keynote address during an intimate dinner with conference participants on June 14.
In his remarks, Wilder recalled with great humor his first successful campaign for statewide office as Lieutenant Governor in 1985. The campaign included a highly-chronicled, two-month back roads tour of Virginia's predominantly rural, central and western regions.
"All the press followed as they waited for 'the incident," he said. "But it never came."
Wilder recalled that reporters who asked provocative questions to white citizens about his race were nearly universally disappointed. "Well I know what color he is," he chuckled while imitating a voter. "Tell me something I don't know."
He also discussed some of the more sobering moments of his political career, such as when he was confronted as a newly elected state senator with the now retired state song, "Carry Me Back to Old Virginia."
In a move that many of his black contemporaries disavowed as frivolous and career-ending, Wilder publicly opposed the song as a racist and romanticist interpretation of enslavement."People said my career was over," said Wilder, whose public opposition to the song was nearly 27 years ahead of the song's official retirement.
"But I knew that when a thing is right, the time is always right."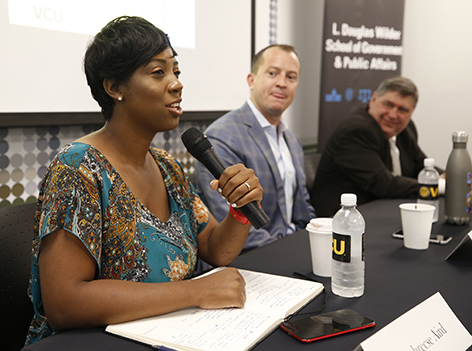 Students also heard from various members of the Virginia General Assembly including delegates Lamont Bagby, Lashrecse Aird and Sam Rasoul and Richmond City Councilman Andreas Addison during back-to-back panels featuring the insights and reflections of some of the region's youngest and most influential elected representatives.
Aird, who holds the distinction of being the youngest woman ever elected to the Virginia House of Delegates and represents a diverse population of suburban, urban and rural working-class citizens in parts of the City of Hopewell, Chesterfield, Dinwiddie and Prince George County, was joined by Addison and Henrico County Sheriff Mike Wade for a refreshingly candid discussion on the practicalities of elected service.
Sam Rasoul, who is the only Muslim member of the Virginia legislature, presented during a separate session, designed to connect participants with the 'why' of their public service passion.
Each panelist spoke at length about the importance of authenticity, bi-partisan collaboration, preparation and remaining accessible to members of the political opposition.

Curtis Brown, a 2011 alumnus of the Wilder School's master's in homeland security and emergency preparedness program, who now serves as chief deputy state coordinator and chief diversity and inclusion officer at the Virginia Department of Emergency Management, welcomed the Public Service Weekend cohort to the state's emergency operations center for a behind-the-scenes tour and an illuminating discussion on the need to address structural racism and social and economic disparities in all phases of emergency planning.
Brown opened up about his experiences as the state's deputy secretary of homeland security during the now infamous Unite the Right Rally, a violent white supremacist demonstration that occurred in August of 2017 and resulted in the death of a counter protestor and two state troopers.
He recounted the decision to bring in the National Guard to support the City of Charlottesville's small police force of approximately 60 officers and recalled the inciting incident that sparked the incident—the proposed removal of a statue of Robert E. Lee from a local park.
"It's a vulnerability that remains high in Virginia," said Brown. "Virginia has more confederate monuments than any other state in the nation with the exception of North Carolina."
"Unfortunately, our laws have not caught up with the rising threat of White supremacy. The current statutes focus on threats from foreign terrorist groups like Al Quaeda and not on domestic terrorist groups like White nationalists."
"That's why we need a new and diverse cadre of policy leaders like you who will change the world through more responsive policy," he added.
Brown was one of several VCU Wilder School alumni to serve on a robust array of panel discussions. Farrah Stone, Ph.D., a senior research methodologist and alumna of the Wilder School's doctoral program in public policy and administration and Michael Perkins, Esq., an analyst and current doctoral candidate—both staffers for the Government Accountability Office—were featured guests on a special evening panel on the importance of diversity and inclusion in federal oversight. Stone and Perkins were joined by senior managing director Orice Williams Brown.
Other Wilder School alumni panelists included Aleigh Faulk, Gabriella Pino-Moreno and Kayla White who discussed their experiences as graduate students at the VCU Wilder School. Participants also met with academic administrators as well as members of the Wilder School's graduate student advising and student success teams.
A path forward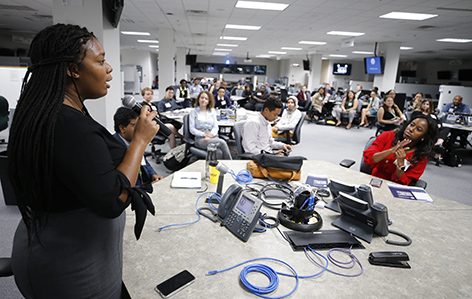 For several of the students who attended the Wilder School Public Service Weekend, the group presentations provided an invaluable opportunity to apply a social equity lens to an area of public policy outside of their individual areas of interest.
Jeremiah Azurin, a distance learner in computer science and engineering at Harvard University, said the group structure gave him a chance to have the kind of equity and inclusion and conversations that weren't a typical part of his curriculum as a STEM student.
He also said called having the opportunity to use GIS to map out issues that would otherwise be difficult to substantiate without a visual storyboard "an exciting new skill."
"In general I think I've been exposed to a lot of new and interesting tools that have given me some perspective about how I might be able to contribute through the field of public service," Azurin said.
Iyanna Barker, a recent graduate of Florida State University who was referred to the Public Service Weekend by a mentor and Virginia native agreed.
"I thought this was going to be a conference where we came and talked about social issues and how we can fix them," she said.
Barker's interest in law and criminal justice reform has led her to a crossroads between the pursuit of a law degree or a master's in public policy. It was a key reason why she wanted to attend the weekend.
"I was looking for some affirmation on my next move," she said.
For Barker, her culminating team presentation on the implications of increased property values along Pulse, Richmond's Bus Rapid Transit Line, pushed her to think outside of the her familiar world of criminal justice and gave her "hands-on experience with working with policy and coming up with recommendations" in a way that far exceeded her expectations.
"I understand now that social equity spills over into concerns like gentrification and food insecurity and other issues that I do find compelling," she said.
"I've also come to see [the Wilder School] as mainly focused on issues like social justice, social equity and bringing awareness to important issues in the City of Richmond. The prominence of the school's focus on public policy throughout the city was very impressive. This experience is really encouraging me to look more closely at VCU when thinking about graduate school."