News
Gooden Named Interim Dean of Wilder School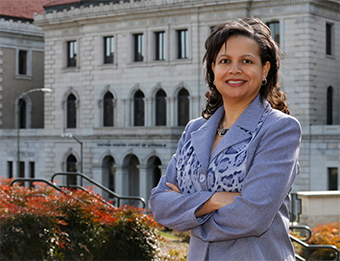 Susan T. Gooden, Ph.D., professor of public administration and policy, has been named interim dean of the Wilder School, effective Tuesday, May 15.
Gooden began her VCU career in 2004 as an associate professor. She has served the school in several leadership roles including director of graduate programs, director of the Wilder Graduate Scholars Fellowship, which she also founded, and executive director of The Grace E. Harris Leadership Institute, a position she held for eight years. Prior to her arrival at VCU, Gooden was assistant and associate professor in the Center for Public Administration and Policy at Virginia Tech where she also was founding director of the Race and Social Policy Research Center. She was a post-doctoral fellow in The Carolina Minority Postdoctoral Scholars Program at the University of North Carolina-Chapel Hill.
A prolific scholar, she has served as principal investigator for 21 grants totaling more than $1.7 million and has published three books and numerous chapters, refereed journal articles and peer-reviewed publications. Her books include "Race and Social Equity: A Nervous Area of Government" and "Cultural Competency for Public Administrators," a co-edited volume. Her third book, "Why Research Methods Matter," will be released this summer.
An acknowledged expert on social equity and disparity studies, Gooden is the co-editor of a journal symposium that is marking the 50th anniversary of the Kerner Commission Report, the 1968 document assembled by the National Advisory Commission on Civil Disorders that offered a window into the roots of racism and inequality in the United States.
Gooden is a past president of the American Society for Public Administration and is an elected member of the National Academy of Public Administration. In 2016 she was appointed to the board of the Virginia Community College System. She holds an A.A.S. in Natural Science from Patrick Henry Community College, a B.A. in English and an M.A. in Political Science from Virginia Tech, and an M.A. and a Ph.D. in Political Science from the Maxwell School of Citizenship and Public Affairs from Syracuse University.
"I am excited about the opportunity to serve as interim dean," Gooden said. "I look forward to increasing the Wilder School's visibility, elevating our national reputation and strengthening our connections."